William Hill World Championship
William Hill World Championship
Michael van Gerwen won his third World Championship crown with a 7-3 win over Michael Smith on New Years Day at the Alexandra Palace, London.
'Mighty' Michael van Gerwen claimed the 2018/19 World Championship and his third title with a 7-3 win over Michael Smith.
Van Gerwen won the William Hill World Darts Championship for a third time with a 7-3 victory over Michael Smith at London's Alexandra Palace on Tuesday. The culmination of darts' biggest-ever event saw world number one Van Gerwen produce a dominant display in which he led throughout in the replay of the 2018 Premier League Final.
The Dutchman opened up four-set leads at 4-0 and 6-2, with a determined Smith unable to work his way back into the contest. In the first World Championship final since 1983 to feature two players under 30 years of age, Van Gerwen completed a 7-3 triumph to walk away with the £500,000 top prize and the coveted Sid Waddell Trophy.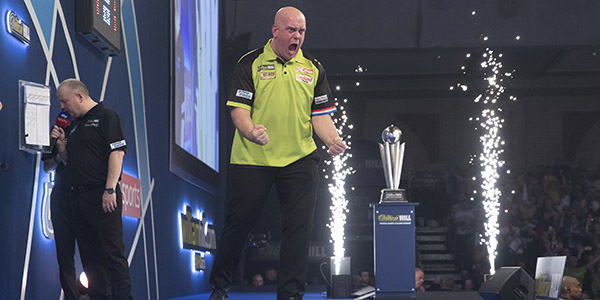 "It means the world to me to win this trophy for a third time," said Van Gerwen, who previously tasted victory in 2014 and 2017."To win the biggest match of the year on this stage is the best feeling you can have, it's incredible."
"I think I probably should've won more than three World Championship titles by now but it is a great feeling to be able to call myself a three-time World Champion. Now it's time for a well-deserved holiday!"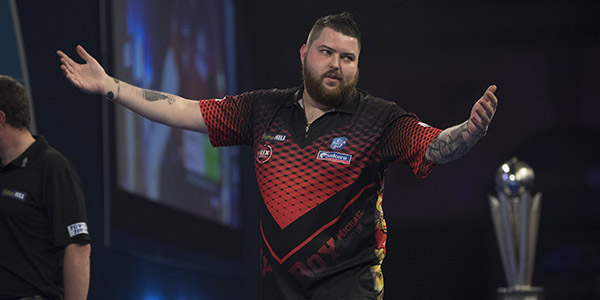 "I'm annoyed with myself for how I played, and if I took my chances then maybe it would've been a different game. "I tried way too hard but it's my first World Championship final and I guarantee it won't be my last. "I guarantee that one day I will lift this trophy.

Semi Finals
Nathan Aspinall 3-6 (10) Michael Smith
(1) Michael van Gerwen 6-1 (4) Gary Anderson

Quarter Finals
(1) MvG v Ryan Joyce
(12) Dave Chisnall 2-5 (4) Gary Anderson
Luke Humphries 1-5 (10) Michael Smith
Nathan Aspinall 5-1 Brendan Dolan
Fourth Round (Last 16)
(1) MvG 4-1 (16) Adrian Lewis
Ryan Joyce 4-3 (9) James Wade
(28) Jamie Lewis 0-4 (12) Dave Chisnall
(4) Gary Anderson 4-3 (20) Chris Dobey
(2) Rob Cross (31) 2-4 Luke Humphries
Ryan Searle 1-4 (10) Michael Smith
Nathan Aspinall 4-3 Devon Petersen
(30) Benito van de Pas 1-4 Brendan Dolan
Third Round (Last 32)
(1) Michael van Gerwen 4-1 (32) Max Hopp
(16) Adrian Lewis 4-0 Darius Labanauskas
Ryan Joyce 4-3 (25) Alan Norris
(9) James Wade 4-3 Keegan Brown
(5) Daryl Gurney 3-4 (28) Jamie Lewis
(12) Dave Chisnall 4-0 (21) Kim Huybrechts
(4) Gary Anderson 4-3 (29) Jermaine Wattimena
Vincent van der Voort 3-4 (20) Chris Dobey
(2) Rob Cross 4-0 (31) Cristo Reyes
Dimitri van den Bergh 1-4 Luke Humphries
Ryan Searle 4-1 William O'Connor
(10) Michael Smith 4-2 (23) John Henderson
Nathan Aspinall 4-1 (27) Kyle Anderson
Devon Petersen 4-2 (22) Steve West
Toni Alcinas 2-4 (30) Benito van de Pas
Brendan Dolan 4-2 (19) Mervyn King
Second Round (Last 64)
(1) Michael van Gerwen 3-1 Alan Tabern
(32) Max Hopp 3-0 Danny Noppert
(16) Adrian Lewis 3-0 Ted Evetts
(17) Raymond van Barneveld 2-3 Darius Labanauskas
(8) Simon Whitlock 0-3 Ryan Joyce
(25) Alan Norris 3-2 Steve Lennon
(9) James Wade 3-2 Seigo Asada
(24) Jelle Klaasen 1-3 Keegan Brown
(5) Daryl Gurney 3-0 Ross Smith
(28) Jamie Lewis 3-2 Cody Harris
(12) Dave Chisnall 3-2 Josh Payne
(21) Kim Huybrechts 3-0 Daniel Larsson
(4) Gary Anderson 3-1 Kevin Burness
(29) Jermaine Wattimena 3-0 Michael Barnard
(13) Darren Webster 0-3 Vincent van der Voort
(20) Steve Beaton 0-3 Chris Dobey
(2) Rob Cross 3-1 Jeffrey de Zwaan
(31) Cristo Reyes 3-2 Rowby-John Rodriguez
(15) Jonny Clayton 1-3 Dimitri Van den Bergh
(18) Stephen Bunting 1-3 Luke Humphries
(7) Mensur Suljovic 1-3 Ryan Searle
(26) James Wilson 2-3 William O'Connor
(10) Michael Smith 3-1 Ron Meulenkamp
(23) John Henderson 3-2 Gabriel Clemens
(6) Gerwyn Price 2-3 Nathan Aspinall
(27) Kyle Anderson 3-1 Noel Malicdem
(11) Ian White 1-3 Devon Petersen
(22) Steve West 3-1 Richard North
(3) Peter Wright 1-3 Toni Alcinas
(30) Benito van de Pas 3-2 Jim Long
(14) Joe Cullen 0-3 Brendan Dolan
(19) Mervyn King 3-2 Jan Dekker
First Round (Last 96)
Alan Tabern 3-2 Raymond Smith
Danny Noppert 3-0 Royden Lam
Simon Stevenson 0-3 Ted Evetts
Matthew Edgar 1-3 Darius Labanauskas
Ryan Joyce 3-0 Anastasia Dobromyslova
Steve Lennon 3-0 James Bailey
Krzysztof Ratajski 2-3 Seigo Asada
Keegan Brown 3-0 Karel Sedlacek
Ross Smith 3-1 Paul Lim
Martin Schindler 2-3 Cody Harris
Josh Payne 3-2 Jeff Smith
Robert Thornton 1-3 Daniel Larsson
Paul Nicholson 0-3 Kevin Burness
Michael Barnard 3-2 Jose De Sousa
Vincent van der Voort 3-2 Lourence Ilagan
Chris Dobey 3-0 Boris Koltsov
Jeffrey de Zwaan 3-1 Nitin Kumar
Ricky Evans 1-3 Rowby-John Rodriguez
Dimitri Van den Bergh 3-0 Chuck Puleo
Luke Humphries 3-0 Adam Hunt
Ryan Searle 3-0 Stephen Burton
William O'Connor 3-0 Yordi Meeuwisse
Ron Meulenkamp 3-2 Diogo Portela
Gabriel Clemens 3-0 Aden Kirk
Nathan Aspinall 3-0 Geert Nentjes
Jeffrey de Graaf 2-3 Noel Malicdem
Wayne Jones 2-3 Devon Petersen
Richard North 3-2 Robert Marijanovic
Toni Alcinas 3-0 Craig Ross
Mickey Mansell 1-3 Jim Long
Brendan Dolan 3-0 Yuanjun Liu
Jan Dekker 3-1 Lisa Ashton
Prize Fund
| | |
| --- | --- |
| Winner | £500,000 |
| Runner-Up | £200,000 |
| Semi-Finalists | £100,000 |
| Quarter-Finalists | £50,000 |
| Fourth Round Losers | £35,000 |
| Third Round Losers | £25,000 |
| Second Round Losers | £15,000 |
| First Round Losers | £7,500 |
| Total | £2,500,000 |