UNIBET Premier League Goes to MvG
UNIBET Premier League Goes to MvG
'Mighty' Michael van Gerwen won his fourth Premier League title with a scintillating display to beat Michael Smith 11-4 with a average of 112.37
MICHAEL VAN GERWEN retained his Betway Premier League title with a stunning 11-4 win over Michael Smith.
The Dutchman produced a stunning 112.37 average, the highest in this year's tournament, to win the Premier League crown for a third year in a row. Van Gerwen beat Rob Cross 10-6 in his semi-final earlier in the evening to reach a sixth consecutive final, before clinching the £250,000 first prize – plus a £25,000 league leader's bonus after topping the regular season's league table for a sixth straight year.
"I think I played a phenomenal game," said Van Gerwen, who hit seven 180s in the final. "I know I had a big job to do to win the game but I was focussed on doing something extra – I wanted to break the record average but I fell just short.
"I had to be at my best to beat Michael, he is one of the big boys now. "It means a lot to me to win this tournament, I had to work hard for this over the last 16 weeks and to win it again is amazing."
Van Gerwen was clinical on the doubles, hitting 11 from 16 attempts, and was on course to average 118 going into the final break. Meanwhile, Smith battled hard to keep himself in the tie, producing stunning finishes of 125 and 104, along with six maximums.
"I want to thank the fans and everyone who supported me," "Michael was just too good tonight, I tried my best but it just wasn't enough on the night.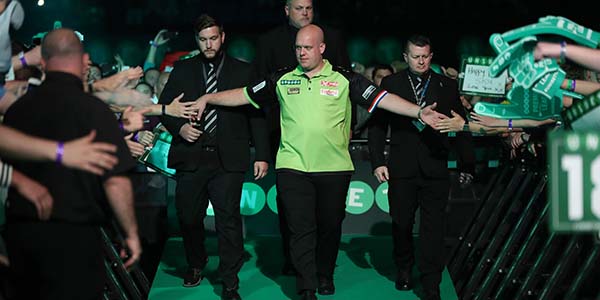 Van Gerwen became the first man through to the final with a comfortable 10-6 win over Cross. The three-time Premier League champion fired in nine 180s as he threw an impressive 103.65 average to win through to his sixth consecutive Premier League final.
Smith claimed the biggest win of his career with an impressive 10-6 triumph over his close friend and mentor Anderson to reach his first senior televised PDC final.
On his debut Play-Offs appearance Smith smashed in eight maximums and two ton-plus checkouts to book his place in the final with Van Gerwen. The St Helens star settled from the start, hitting a 100 finish to hold in the first leg, then doubling his advantage with another 15-dart leg to break the Anderson throw.
The Scot broke straight back to halve the deficit, and then hit back-to-back maximums but missed chances to hold and the Englishman punished to lead 3-1. Anderson clawed his way back into the game, finding tops to break the Smith throw and trail 4-3, before finding tops again to level at 4-4.
An emotional Smith found tops to wrap up the win and set up a final clash with Van Gerwen, ending Anderson's hopes of a third Premier League crown in the process.
"Michael played a good game tonight and he deserved to win," admitted Anderson, who qualified for The O2 for a fifth successive year.
Unibet Premier League Play-Offs – Thursday May 17
The O2, London
Semi-Finals (19)
Semi-Finals
Michael Smith 10-6 Gary Anderson
MvG 10-6 Rob Cross
Final
Michael van Gerwen 11-4 Michael Smith
Prize Fund:
Winner £250,000
Runner-Up £120,000
Semi-Finalists £80,000
__________________
Fifth Place £65,000
Sixth Place £55,000
Seventh Place £50,000
Eighth Place £45,000
__________________
Ninth Place £30,00
Tenth Place £25,000
League Leader's Bonus £25,000
Total £825,000
2018 Unibet Premier League Fixtures/Results
Night One – February 1st
3Arena Dublin
Mensur Suljovic 5-7 Simon Whitlock
Gary Anderson 5-7 Michael Smith
Daryl Gurney 6-6 Raymond van Barneveld
Michael van Gerwen 7-2 Rob Cross
Peter Wright 6-6 Gerwyn Price
Night Two – February 8th
Motorpoint Arena Cardiff
Michael Smith 7-4 Daryl Gurney
Rob Cross 1-7 Simon Whitlock
Michael van Gerwen 5-7 Peter Wright
Gerwyn Price 3-7 Gary Anderson
Raymond van Barneveld 7-5 Mensur Suljovic
Night Three – February 15
Metro Radio Arena, Newcastle
Mensur Suljovic 2-7 Michael Smith
Daryl Gurney 6-6 Gerwyn Price
Peter Wright 4-7 Rob Cross
Gary Anderson 3-7 Michael van Gerwen
Simon Whitlock 7-4 Raymond van Barneveld
Night Four – February 22
Mercedes-Benz Arena, Berlin
Michael Smith 7-3 Simon Whitlock
Gerwyn Price 3-7 Mensur Suljovic
Michael van Gerwen 7-2 Daryl Gurney
Rob Cross 7-3 Raymond van Barneveld
Peter Wright 6-6 Gary Anderson
March 1 (Postponed)
Westpoint Arena, Exeter
Night Five – March 8

First Direct Arena, Leeds
Michael van Gerwen 7-4 Simon Whitlock
Gerwyn Price 5-7 Raymond van Barneveld
Peter Wright 1-7 Mensur Suljovic
Gary Anderson 6-6 Daryl Gurney
Rob Cross 7-5 Michael Smith
Night Six – March 15
Motorpoint Arena, Nottingham
Michael Smith 7-1 Peter Wright
Simon Whitlock 6-6 Daryl Gurney
Mensur Suljovic 2-7 Rob Cross
Gerwyn Price 3-7 Michael van Gerwen
Raymond van Barneveld 6-6 Gary Anderson
Night Seven – March 22

The SSE Hydro, Glasgow
Daryl Gurney 7-3 Mensur Suljovic
Michael van Gerwen 7-2 Michael Smith
Gary Anderson 7-4 Simon Whitlock
Peter Wright 1-7 Raymond van Barneveld
Rob Cross 7-1 Gerwyn Price
Night Eight – March 29
The SSE Arena, Belfast
Mensur Suljovic 5-7 Gary Anderson
Michael Smith 7-2 Gerwyn Price
Raymond van Barneveld 2-7 Michael van Gerwen
Daryl Gurney 7-5 Rob Cross
Simon Whitlock 6-6 Peter Wright
Judgement Night – April 5
Echo Arena, Liverpool
Simon Whitlock 7-3 Gerwyn Price
Raymond van Barneveld 0-7 Michael Smith
Gary Anderson 5-7 Rob Cross
Mensur Suljovic 4-7 Michael van Gerwen
Daryl Gurney 6-6 Peter Wright
Mensur Suljovic and Gerwyn Price are eliminated
Night Ten – April 12th

The FlyDSA Arena, Sheffield
Raymond van Barneveld 3-7 Daryl Gurney
Gary Anderson 7-2 Peter Wright
Simon Whitlock 1-7 Michael van Gerwen
Michael Smith 5-7 Rob Cross
Raymond van Barneveld 2-7 Peter Wright
Night 11 – April 18th

Rotterdam Ahoy (1)
Michael Smith 2-7 Gary Anderson
Rob Cross 7-4 Daryl Gurney
Raymond van Barneveld 7-3 Simon Whitlock
Peter Wright 7-5 Michael van Gerwen
Rob Cross 3-7 Gary Anderson
Night 12 – April 19th

Rotterdam Ahoy (2)
Simon Whitlock 1-7 Michael Smith
Daryl Gurney 3-7 Gary Anderson
Rob Cross 6-6 Peter Wright
Michael van Gerwen 5-7 Raymond van Barneveld
Daryl Gurney 7-1 Simon Whitlock
Night 13 – April 26th

The Manchester Arena
Peter Wright 1-7 Michael Smith
Daryl Gurney 6-6 Michael van Gerwen
Simon Whitlock 7-5 Gary Anderson
Raymond van Barneveld 6-6 Rob Cross
Michael Smith 1-7 Michael van Gerwen
Night 14 – May 3rd

Arena Birmingham
Peter Wright 7-4 Simon Whitlock
Rob Cross 2-7 Michael Van Gerwen
Daryl Gurney 6-6 Michael Smith
Gary Anderson 3-7 Raymond Van Barneveld
Night 15 – May 10th

The BHGE Arena, Aberdeen
Michael Smith 6-6 Raymond van Barneveld
Peter Wright 6-6 Daryl Gurney
Simon Whitlock 6-6 Rob Cross
Michael van Gerwen 5-7 Gary Anderson
Tickets via www.ticketmaster.co.uk/AECC and 08444 77 9000
Final Table
Play-Offs – May 17th

The O2, London
Semi-Finals
Michael Smith 10-6 Gary Anderson
MvG 10-6 Rob Cross
Final
Michael van Gerwen 11-4 Michael Smith
2018 CHAMPION
MICHAEL VAN GERWEN
League Leader Michael van Gerwen
Final – Michael van Gerwen defeated Michael Smith 11-4
2017 CHAMPION
MICHAEL VAN GERWEN
League Leader Michael van Gerwen
Final – Michael van Gerwen defeated Peter Wright 11-10
2016 CHAMPION
MICHAEL VAN GERWEN
League Leader Michael van Gerwen
Final – Michael van Gerwen defeated Phil Taylor 11-3
2015 CHAMPION
GARY ANDERSON
League Leader Michael van Gerwen
Final – Gary Anderson defeated Michael van Gerwen 11-7
2014 CHAMPION
RAYMOND VAN BARNEVELD
League Leader  Michael van Gerwen
Final – Raymond van Barneveld defeated Michael van Gerwen 10-6
2013 CHAMPION
MICHAEL VAN GERWEN
League Leader  Michael van Gerwen
Final – Michael van Gerwen defeated Phil Taylor 10-8
2012 CHAMPION
PHIL TAYLOR
League Leader  Phil Taylor
Final – Phil Taylor defeated Simon Whitlock 10-7
2011 CHAMPION
GARY ANDERSON
League Leader  Phil Taylor
Final – Gary Anderson defeated Adrian Lewis 10-4
2010 CHAMPION
PHIL TAYLOR
League Leader  Phil Taylor
Final – Phil Taylor defeated James Wade 10-8
2009 CHAMPION
JAMES WADE
League Leader  Phil Taylor
Final – James Wade defeated Mervyn King 13-8
2008 CHAMPION
PHIL TAYLOR
League Leader  Phil Taylor
Final – Phil Taylor defeated James Wade 16-8
2007 CHAMPION
PHIL TAYLOR
League Leader  Phil Taylor
Final – Phil Taylor defeated Terry Jenkins 16-6
2006 CHAMPION
PHIL TAYLOR
League Leader  Phil Taylor
Final – Phil Taylor defeated Roland Scholten 16-6
2005 CHAMPION
PHIL TAYLOR
League Leader  Phil Taylor
Final – Phil Taylor defeated Colin Lloyd 16-4
Betway Premier League – Nine-Dart Finishes (8)
2006 – Raymond van Barneveld v Peter Manley (Bournemouth)
2010 – Raymond van Barneveld v Terry Jenkins (Aberdeen)
2010 – Phil Taylor x2 v James Wade (Wembley)
2012 – Phil Taylor v Kevin Painter (Aberdeen)
2012 – Simon Whitlock v Andy Hamilton (The O2)
2016 – Adrian Lewis v James Wade (Belfast)
2017 – Adrian Lewis v Raymond van Barneveld (Liverpool)
Averages
Highest Winning Average
123.40 Michael van Gerwen 7-1 Michael Smith Aberdeen 2016
Highest Losing Average
115.80 Phil Taylor 3-7 Raymond van Barneveld Glasgow 2015