The PDPA Junior World Cup
The PDPA Junior World Cup
Netherlands A retained The PDPA Junior World Cup from Gibraltar on Tuesday, beating Netherlands B 4-0 in the Final.
The Netherlands' victory in the PDPA Junior World Cup in Gibraltar was followed by a win for Keane Barry in the DartConnect Junior International Open and a place in the JDC World Championship where he will face Adam Gawlas.
The JDC staged a three-day festival of darts at the new Europa Point Arena, culminating on Thursday with the early rounds of the Scott Farms International Junior World Championship. Tuesday's opening event saw the Netherlands A team – which included reigning Junior World Champion Jurjen van der Velde – win the final against Netherlands B by a 4-0 scoreline.
Van der Velde was joined in the Netherlands A team by Owen Roelofs – the runner-up in the 2017 Junior World Championship – Daan Bastiaansen and Luke van der Kwast. The quartet also defeated England A, Ireland A, Spain, USA, China A and England B during the 16-nation event, which saw 26 teams competing.
JDC WORLD CHAMPIONSHIP:
Keane Barry and Adam Gawlas saw off Daan Bastiaansen and Justin Hewitt respectively and will now play on the Alexandra stage to play the final in December. 
Barry has established himself in the past few weeks in particular as a real stand out. This has seen him secure his spot in the Tom Kirby Irish Matchplay final where he will face Liam Gallagher at the World Grand Prix and he also yesterday won the JDC Junior International Open.
This means that he will at least appear at the Alexandra Palace once this December with a Junior and Senior bow potentially on the cards.
Gawlas on the other hand despite not averaging at the heights of Barry has had a stunning few months including showing how good he is at the recent Austrian Darts Championship and the Czech ace will hope to show signs of the future when he faces the Irish ace later this year.
Quarter Finals:
Justin Hewitt 4-2 Jack Shepherd
Adam Gawlas 4-1 Tomas Houdlek
Daan Bastiaansen 4-2 Connor Pickett
Keane Barry 4-2 Luke Littler
Semi Finals
Justin Hewitt 3-5 Adam Gawlas
Daan Bastiaansen 2-5 Keane Barry
Final
Adam Gawlas v Keane Barry (Date TBC)
PDPA WORLD CUP RESULTS:
GROUP 1:
New Zealand B – Denmark B – Spain – Gibraltar B – England A
GROUP 2:
India A – China B – Iceland – Gibraltar A – Netherlands B
GROUP 3:
England B – China A – USA – Netherlands A
GROUP 4:
India B – Czech Republic – Australia A – Wales B
GROUP 5:
Ireland A – New Zealand A – Australia B – Scotland
GROUP 6:
Wales A – Ireland B – Denmark A – Canada
LAST 16
New Zealand B 2-4 USA / Czech Republic 4-0 India A
Netherlands B 4-2 England B / Denmark A 2-4 Scotland
Netherlands A 4-0 Spain / Ireland A 4-0 Wales B
England A 4-0 Australia A / Gibraltar A 4-1 Wales A
QUARTER FINALS
USA 2-4 Czech Republic / Netherlands B 4-2 Scotland
Netherlands A 4-3 Ireland A / England A 4-1 Gibraltar A
SEMI FINALS
Czech Republic 2-4 Netherlands B
Netherlands A 4-0 England A
FINAL
Netherlands B 4-0 Netherlands A
INTERNATIONAL DARTS OPEN:
Wednesday's DartConnect International Open saw Irish teenager Barry come through a field of 129 players to claim the title, edging out Nathan Girvan 6-5 in a high-quality final.
He averaged 100.5 in the final, landing an 11-darter as he moved into a 4-2 lead before Scottish ace Girvan hit back to take the game into a deciding leg at five-all, only for Barry to snatch the title with a 13-dart leg.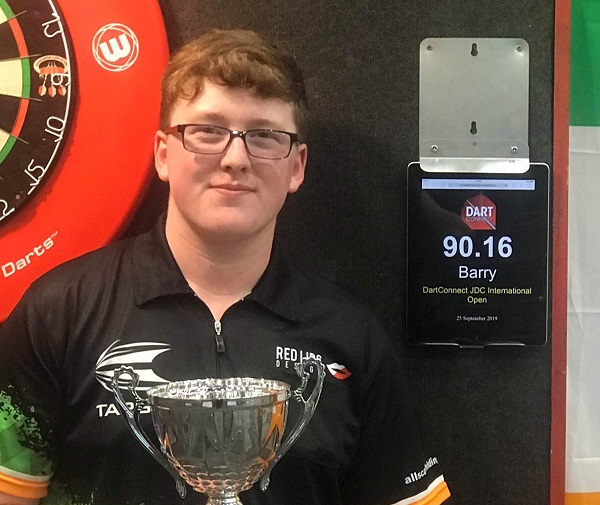 Barry's success is a further boost for the youngster, who will be competing in the Tom Kirby Memorial Irish Matchplay final in Dublin on Saturday October 12 against Liam Gallagher – with the winner securing a place in the William Hill World Darts Championship.
Adam Gawlas, who recently reached the third round of the Austrian Darts Championship on his European Tour debut, was a semi-finalist, alongside fellow Czech prospect Tomas Houdek.Van der Velde was defeated by Barry in the quarter-finals, while Keelan Kay's run to  the last eight included a 105 average in his last 64 whitewash of Sankalp Salunke.
Thursday's final day of action will see the players battling to secure spots in the Junior World Championship final, which will take place on Saturday December 21 at Alexandra Palace during the William Hill World Darts Championship.
World Cup Teams:
Host Nation Team GIBRALTAR: Jason Hewitt, Craig Galliano, Jerome Chipol, Sean Negrette, Dylon Duo jnr, Casey Dyer, Joseph Borge, Elton Victory – All of the Gibraltar Darts family send our best wishes to our junior team and the success of the event.
2018 Champions Team NETHERLANDS: Juren van der Velde, Daan Bastiaansen, Owen Roelofs, Luke van der Kwast, Danny Jansen, Marcel Bus, Kevin Lasker, Pim van Bijnen – World Champion and World No 1 Michael van Gerwen – Good luck to the reigning Junior World Champions Netherlands in Tuesdays PDPA Junior World Cup. Enjoy the experience and play hard for your country and your team. 'MvG'
Team CANADA: Zach van Vliet, Devin Gross, Hayden Brown, Nathan Sherk – Three times World Champion John Part – To all of our great young players from Canada please go out and play darts like you know how. You will be measured by the success of your attitude more than your throw. Do us proud, and most importantly, enjoy!"
Team USA: Jamison Merritt, Kaden Anderson, PJ Stewart Jr, Buster Graves – USA's finest Darin Young – I would like to wish the best of luck to the young men representing the USA at JDC World Cup in Gibraltar. Stay focused, play hard and enjoy the opportunity ! all the best Darin. 
Team AUSTRALIA: Ky Smith, Mitchell Beswick, Hayden Scott, Lachie Gleason, Cody Dewey, Erin Logan, Tyson Stow, Faith kainuku. – Aussie Legend Simon Whitlock – Hi guys, Simon Whitlock here wishing you all the very best for the JDC World Cup in September, what a great opportunity for you all to show your talent to the darts world. This is an amazing piece of history that the JDC/PDPA/PDC have created for young players not only in Oz but all over the world. Darts has been my life for 35 years and we never had these opportunities, so you should take them in both hands and relish the chances and experience this will bring to you. Wishing you all the best and bringing the Trophy home to Australia… with very best wishes Simon Whitlock'
Team NEW ZEALAND: Lachy Rountree, Sam Harman, Tumihitai Te Whero, Renata Leach, Dominic Clements, Jack Sheppard, Irie Eyles, Cory Horne – New Zealand's No1 Cody Harris – Good luck to New Zealand's stars of the future in the PDPA Junior World Cup in Gibraltar. 'Cody'
Team IRELAND: Keane Barry, Sean Cummins, Killian Heffernan, Katie Sheldon, Pearse Mackle, Ethan Willis, Sean Mckeon, Dylon Dowling, Jamie Lee Cummins – Ireland's No1 William O'Connor – I would like to wish all the junior Irish World Cup Team all the very best for next weeks PDPA Junior World Cup 'Give em Socks'
Team ENGLAND: Leighton Bennett, Harry Gregory, Keelan Kay, James Beeton, Henry Coates, Sean Craig, Joe Pitchford Morris, Mitchell McCarthy – Michael Smith World No5 – I would like to wish all the England Squad my best wishes in the World Cup, play hard, play for your team and enjoy the event. 'Bully Boy'
Team DENMARK
Sebastian Bech, Robin Stegler, Sune Poulsen, Marius Bo Nielse -We are very proud to have the opportunity to send 4 players to JDC World Cup in Gibraltar. We hope that the players will get some experience and use it in future tournaments arranged by PDC.
It is a huge chance for all the players to learn how to play on a higher level, and create friendships around the world. And hopefully it will inspire them to follow there dreams to be a pro dartplayers for the future.
Im sure that they will give everything to make a great result for Denmark. PDCNB (Chairman – Michael Frydendahl & Jann Hoffmann)
Team WALES: Taylor Smolden, Cole Davey, Ieuan Halsall, Brynmor Thomas, Ben Carr, Nathan Hanrahan, Zaidley Evans, Liam Butler, Ethan Haymes, Tomos Jones – Former World Champion Mark Webster – Good Luck to all the Welsh Team at the PDPA Junior World Cup, its a great opportunity for you all 'enjoy' the experience. 'Webby'
Team SCOTLAND
Nathan Girvan, Kyle Walker, Connor Mitchell, John Gallazzi – Scot's Legend Gary Anderson – Good Luck to all the boys representing Scotland in the PDPA Junior World Cup in Gibraltar, I will be watching your progress, make Scotland proud of you.
Team ICELAND: Tomas Orri, Tomas Breki, Alex Mani, Alexander
Team CZECH REPUBLIC: Tomas Houdeck, Vilem Sedivy, Adam Gawlas, David Zaruba – Czech Star Karel Sedlacek – Wishes all the Czech players at the Junior World Cup the very best of luck in Gibraltar. 
Team CHINA: Jiacheng Song, Jiale Dong, Zhengan Gu, Tao Jiang, Yile Liu, Xunxu Kuang, Yanxu Shi, Sheyuan Xue
Team INDIA: Nihar Baldha, Sankalp salunkhe, Anadh Suhagiya, Akshat Andhariya, Thavish Vivek, Hasti Savaliya, Aman Lathiya, Devam Jasani
Team SPAIN: Isaac Munoz Sevillano, Eloy Gonzales De La Viuda, Pedro Fernandez Rubio, David Rodriquez Garcia