PDC Q-School 2020
The 2020 PDC Qualifying Schools concluded on Sunday with the seasons 128 Tour Card Holders confirmed.
Lisa Ashton made history by becoming the first woman to win a PDC Tour Card through Qualifying School on Sunday in Wigan.
Four-time BDO Women's Champion Ashton will compete on the PDC ProTour in 2020 and 2021 after holding on to the final qualification place on the Q School Order of Merit on a landmark day for the sport.
Ashton, who starred in the 2018/19 World Championship, had to endure a nervous wait after going down 5-2 to Justin Smith in her second game of the day resulting in no points being added to her Order of Merit tally.
However, results over the course of the day meant that Ashton's nine points, the bulk of which were won in her run to the last eight on Day Two, were enough to secure her place on the PDC professional circuit for the first time.
Ashton was one of six players tied on nine points, but she and Darren Penhall held the advantage in number of legs won over the four days to take the final two qualification spots. A dramatic final day of action in Wigan and Hildesheim saw both UK and European Q Schools reach their climax as 22 players won two-year Tour Cards.
Two-time BDO Champion Scott Waites will compete on the PDC circuit for the first time in 2020 after winning his Tour Card outright on the final day along with Welshman Nick Kenny.
Having struggled on the opening three days of Q School, former Grand Slam winner Waites found his form on the final day, culminating in a 5-0 whitewash of teenage Irish sensation Keane Barry in their Tour Card decider.
Two-time Development Tour winner Kenny will also be a new addition to the PDC circuit after he saved his best performance till last as he averaged 110.5 to defeat Scott Taylor 5-2 in their Tour Card play-off.
Joining Ashton in winning Tour Cards via the UK Q School Order of Merit are 11 players headed up by former World Championship runner-up Andy Hamilton.
Junior Darts Corporation Chairman Steve Brown was unable to attend the final day of Q School due to JDC-related commitments in China, but his runs on the first two days were enough to ensure a return to the PDC Tour after a five-year absence.
Brisbane Masters winner Damon Heta was successful in his first Q School appearance and he will be joined on the circuit by fellow-Australian and surprise-package Penhall. Scottish duo Ryan Murray and William Borland are also new names on tour, along with Wigan's Martin Atkins.
Adam Hunt, Alan Tabern and Wayne Jones all secured immediate returns after losing their Tour Cards at the end of 2019, while Peter Jacques returns after a one-year absence. At European Q School Germany's Steffen Siepmann booked his place on the PDC Tour for the first time by defeating Wesley Harms 5-3 in the Day Four final in Hildesheim.
However, two-time BDO Championship semi-finalist Harms did enough over the four days to earn a PDC Tour Card for the first time. Harms' fellow-Dutchmen Derk Telnekes and Martijn Kleermaker also secured Tour Cards for the first time, while Dirk van Duijvenbode won back his card at the first time of asking.
Sweden's Daniel Larsson, Croatia's Boris Krcmar and Poland's Krzysztof Kciuk also won Tour Cards for the first time via the European Q School Order of Merit. The first three days of action saw six players win Tour Cards outright at UK Q School, along with three at European Q School.
All 31 PDC Tour Card winners will get their first taste of the PDC ProTour in 2020 at Players Championships One and Two which will take place at The Barnsley Metrodome from February 8th – 9th.
For full QSOoM tables Click Here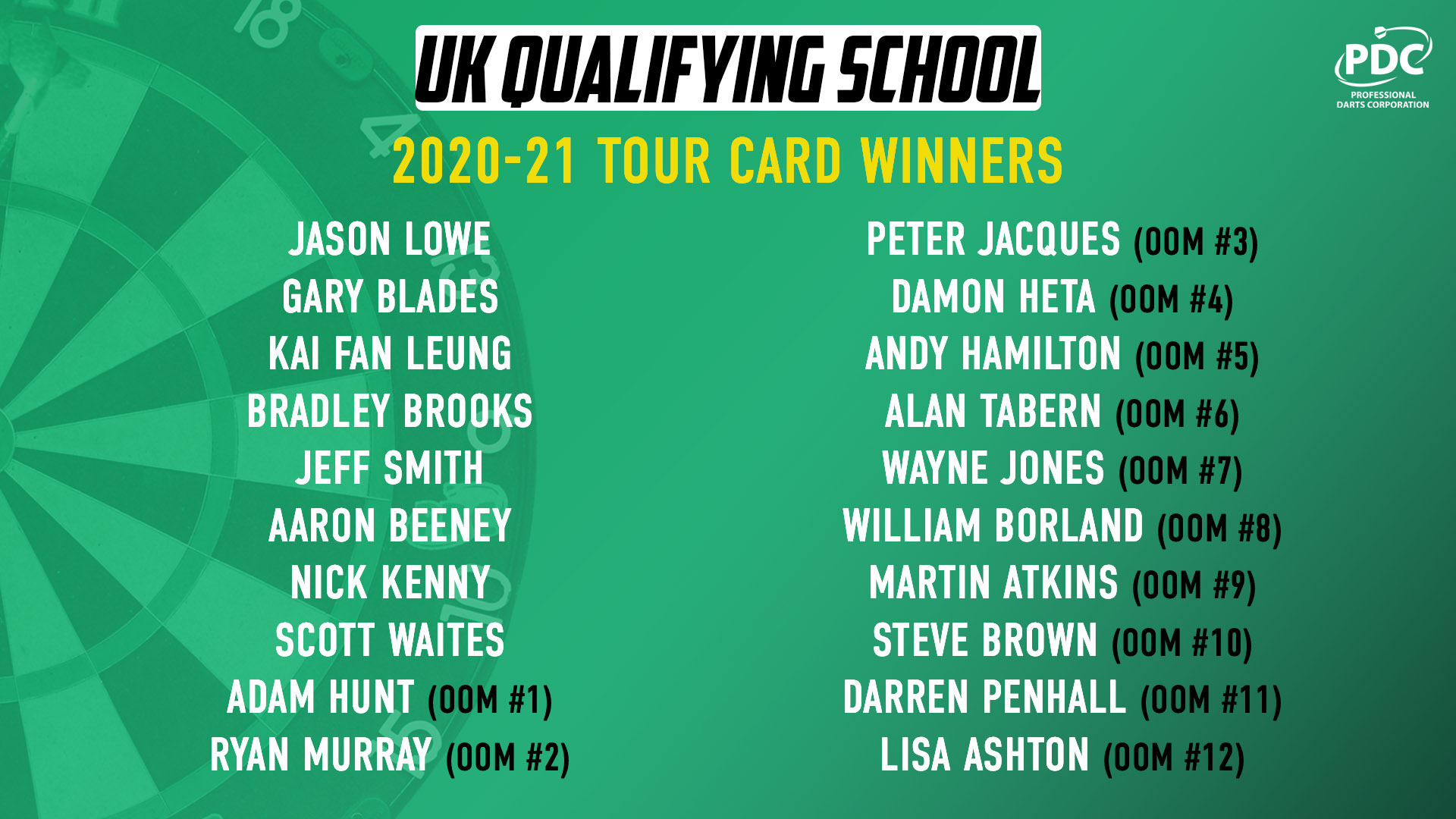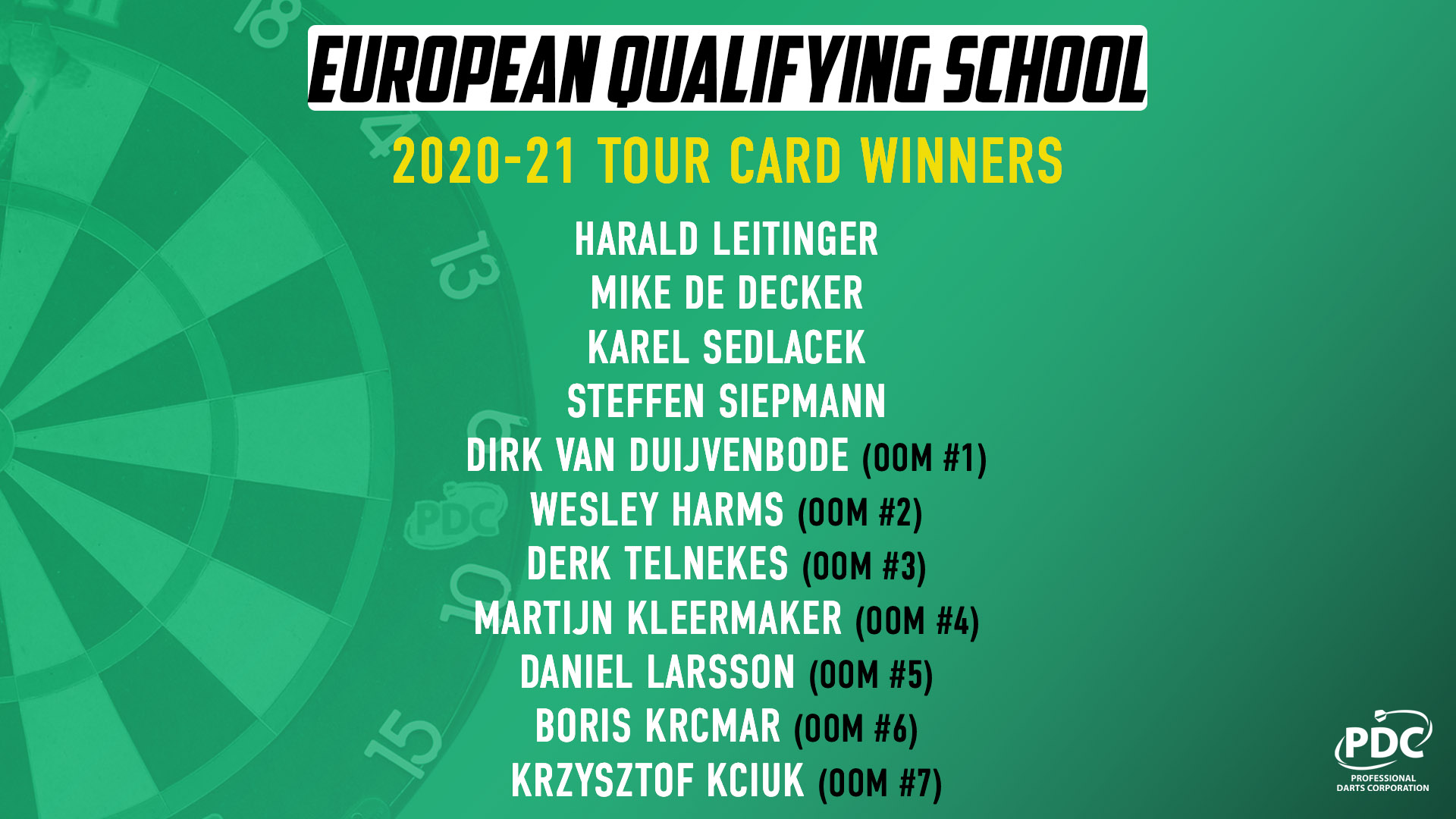 UK Qualfying School Day Four
LAST 16
Wayne Jones 5-4 Thomas Lovely
Scott Taylor 5-3 Alexander Morrison
Stephen Burton 5-0 Darren Johnson
Nick Kenny 5-3 Darren Penhall
Matthew Dennant 5-0 Wes Newton
Keane Barry 5-1 Graham Usher
Scott Waites 5-3 Connor Scutt
Adam Hunt 5-4 Steve Hine
QUARTER FINALS
Scott Taylor 5-1 Wayne Jones
Nick Kenny 5-1 Stephen Burton
Keane Barry 5-2 Matthew Dennant
Scott Waites 5-4 Adam Hunt
SEMI FINALS
Nick Kenny 5-2 Scott Taylor
Scott Waites 5-0 Keane Barry
European Qualfying School Day Four
LAST 16
Steffen Siepmann 5-4 Zoran Lerchbacher
Jose Justicia 5-4 Gino Vos
Lukasz Sawicki 5-0 Wesley Plaisier
Danny van Trijp 5-3 Dennis Nilsson
Wesley Harms 5-3 Boris Krcmar
Kevin Blomme 5-3 Michael Unterbuchner
Dirk van Duijvenbode 5-3 Derk Telnekes
Cody Harris 5-0 Daniel Larsson
QUARTER FINALS
Steffen Siepmann 5-4 Jose Justicia
Danny van Trijp 5-4 Lukasz Sawicki
Wesley Harms 5-0 Kevin Blomme
Dirk van Duijvenbode 5-2 Cody Harris
SEMI FINALS
Steffen Siepmann 5-1 Danny van Trijp
Wesley Harms 5-1 Dirk van Duijvenbode
FINAL
Steffen Siepmann 5-3 Wesley Harms
Final UK QS OoM Table
| | | |
| --- | --- | --- |
| | Player | Points |
| 1 | Adam Hunt | 14 |
| 2 | Ryan Murray | 14 |
| 3 | Peter Jacques | 13 |
| 4 | Damon Heta | 13 |
| 5 | Andy Hamilton | 12 |
| 6 | Alan Tabern-snr | 12 |
| 7 | Wayne Jones | 11 |
| 8 | William Borland | 10 |
| 9 | Martin Atkins-Wigan | 10 |
| 10 | Steve Brown-ENG | 10 |
| 11 | Darren Penhall | 9 |
| 12 | Lisa Ashton | 9 |
| 13 | Steve Hine | 9 |
| 14 | Wes Newton | 9 |
| 15 | Tony Newell | 9 |
| 16 | Stephen Burton | 9 |
| 17 | Dave Prins | 8 |
| 18 | Ritchie Edhouse | 8 |
| 19 | Niall Culleton | 8 |
| 20 | Lewis Pride | 8 |
| 21 | Carl Hamilton | 8 |
| 22 | Keane Barry | 8 |
| 23 | Darryl Pilgrim | 8 |
| 24 | Darryl Fitton | 8 |
| 25 | David Ladley | 7 |
| 26 | Paul Nicholson | 7 |
| 27 | Alexander Morrison | 7 |
| 28 | Lee Evans | 7 |
| 29 | Gary Mawson | 7 |
| 30 | Tony Richardson | 7 |
| 31 | Robert Modra | 7 |
| 32 | John O'Shea-1975 | 7 |
| 33 | Jamie Clark | 7 |
| 34 | Seigo Asada | 6 |
| 35 | James Richardson | 6 |
| 36 | Jim Williams | 6 |
| 37 | Leonard Gates | 6 |
| 38 | John Bowles | 6 |
| 39 | James Hurrell | 6 |
| 40 | Andrew Gilding | 6 |
| 41 | Colin Osborne | 6 |
| 42 | Liam Meek | 6 |
| 43 | Gary Eastwood | 6 |
| 44 | Danny Lauby-Jnr | 6 |
| 45 | Jarred Cole | 6 |
| 46 | Matthew Finch | 6 |
| 47 | Thomas Lovely | 6 |
| 48 | Robert Collins | 6 |
| 49 | Adam Mould | 6 |
| 50 | Darren Johnson | 6 |
| 51 | Terry Roach | 6 |
| 52 | Graham Usher | 6 |
| 53 | Darren Davies-ENG | 6 |
| 54 | Steve Haggerty | 6 |
| 55 | Scott Taylor | 6 |
| 56 | Justin Smith | 5 |
| 57 | Scott Mitchell | 5 |
| 58 | Kevin Thomas | 5 |
| 59 | Daniel Day | 5 |
| 60 | Darren Beveridge | 5 |
| 61 | Jason Askew | 5 |
| 62 | Robbie Green | 5 |
| 63 | Daniel Lee | 5 |
| 64 | Scott Williams | 5 |
| 65 | Chris Quantock | 5 |
| 66 | Michael Flynn | 5 |
| 67 | Chris Lacey | 5 |
| 68 | Shaun Carroll | 5 |
| 69 | Frankie Ansell | 5 |
| 70 | Mark Barilli | 5 |
| 71 | Christopher Bent | 5 |
| 72 | Dom Taylor | 5 |
| 73 | Prakash Jiwa | 5 |
| 74 | Justin Hood | 5 |
| 75 | Andy Chalmers | 5 |
| 76 | Matthew Dennant | 5 |
| 77 | Shaun Rutter | 5 |
| 78 | George Cressey | 5 |
| 79 | Ryan Hogarth-SCO | 5 |
| 80 | Peter Mitchell | 4 |
| 81 | Ryan Harrington | 4 |
| 82 | Chris Aubrey | 4 |
| 83 | Martin Edwards | 4 |
| 84 | Anthony Urmston-Toft | 4 |
| 85 | Jake Jones | 4 |
| 86 | Rhys Hayden | 4 |
| 87 | Andrew Foster | 4 |
| 88 | Tony O'Shea | 4 |
| 89 | Lewis Williams | 4 |
| 90 | Cameron Menzies | 4 |
| 91 | Mark Lawrence | 4 |
| 92 | Dafydd Edwards | 4 |
| 93 | Greg Ritchie | 4 |
| 94 | Stuart White | 4 |
| 95 | Andy Jenkins | 4 |
| 96 | Jamie Kelling | 4 |
| 97 | Kevin Burness | 4 |
| 98 | Damien O'Driscoll | 4 |
| 99 | Kevin Dowling | 4 |
| 100 | Connor Scutt | 4 |
| 101 | Jason Cullen | 4 |
| 102 | Peter Hudson | 4 |
| 103 | John Brown-ENG | 4 |
| 104 | Brett Claydon | 3 |
| 105 | Curtis Hammond | 3 |
| 106 | John Part | 3 |
| 107 | Kevin Garcia | 3 |
| 108 | John Costigan | 3 |
| 109 | Richard Hosey | 3 |
| 110 | Mark Grimes | 3 |
| 111 | Nathan Burdett | 3 |
| 112 | Tommy Lishman | 3 |
| 113 | Daniel Faulkner | 3 |
| 114 | Evander Stevenson | 3 |
| 115 | Anthony Brown-PAD | 3 |
| 116 | James Hubbard | 3 |
| 117 | Brian Woods | 3 |
| 118 | Jamie Atkins | 3 |
| 119 | Alan Norris | 3 |
| 120 | Mick Todd | 3 |
| 121 | Chas Barstow | 3 |
| 122 | Craig Baxter | 3 |
| 123 | Luke Yates | 3 |
| 124 | Mark Dudbridge | 3 |
| 125 | Ben Cheeseman | 3 |
| 126 | Jamie Caven | 3 |
| 127 | Lee Smith | 3 |
| 128 | Daniel Ayres | 3 |
| 129 | David Evans | 3 |
| 130 | Paul Phillips | 3 |
| 131 | Kevin Lane-WAL | 3 |
| 132 | David Neads | 3 |
| 133 | Ewan Hyslop | 3 |
| 134 | Mark Layton | 3 |
| 135 | Russell Murphy | 3 |
| 136 | Ian McFarlane | 3 |
| 137 | Steven Morrison | 3 |
| 138 | Terry Temple | 3 |
| 139 | Sean Ewing | 3 |
| 140 | William O'Toole | 3 |
| 141 | Dave Parletti | 2 |
| 142 | Diogo Portela | 2 |
| 143 | Kevin Painter | 2 |
| 144 | Richie Burnett | 2 |
| 145 | Shane McGuirk | 2 |
| 146 | Dean Owen | 2 |
| 147 | Kyle McKinstry | 2 |
| 148 | Joshua Lowthorpe | 2 |
| 149 | Stuart Davies | 2 |
| 150 | Mark Turner | 2 |
| 151 | Stuart Dutton | 2 |
| 152 | Kieran Evans | 2 |
| 153 | Aden Kirk | 2 |
| 154 | Dean Forde | 2 |
| 155 | Nathan Rafferty | 2 |
| 156 | Fallon Sherrock | 2 |
| 157 | Jacob Gwynne | 2 |
| 158 | Gordon Mathers | 2 |
| 159 | Nicky Denoon | 2 |
| 160 | Christopher-Paul Jones | 2 |
| 161 | Robert Rickwood | 2 |
| 162 | Sandy Morrison | 2 |
| 163 | Coni Singh-Nagi | 2 |
| 164 | Gary Robson | 2 |
| 165 | Daniel Cooper | 2 |
| 166 | Richard Baillie | 2 |
| 167 | Ross Twell | 2 |
| 168 | Paul Rowley | 2 |
| 169 | Ben Quenby | 2 |
| 170 | Rhys Griffin | 2 |
| 171 | Martin Thomas | 2 |
| 172 | Adam Wood | 2 |
| 173 | Chris Craven | 2 |
| 174 | Darren Herewini | 2 |
| 175 | James Lawson | 2 |
| 176 | Martyn Turner | 2 |
| 177 | Geoffrey Murray-ENG | 2 |
| 178 | Joshua Richardson | 2 |
| 179 | Mark Wilson | 2 |
| 180 | Paul Dulson | 2 |
| 181 | Allan Fitzpatrick | 2 |
| 182 | Jonathan Wynn | 2 |
| 183 | Shaun Matthews | 2 |
| 184 | Scott Marsh | 2 |
| 185 | Michael Meaney | 2 |
| 186 | Steven Beasley | 2 |
| 187 | Lee Cocks | 2 |
| 188 | Graham Hall | 2 |
| 189 | Lee Whitworth | 2 |
| 190 | Ray Marshall | 2 |
| 191 | Jason Murphy | 2 |
| 192 | Brandon Jones | 2 |
| 193 | Ricky Clarke | 2 |
| 194 | Tony Clark-ENG90 | 2 |
| 195 | Jim Walker | 2 |
| 196 | Scott Hope | 1 |
| 197 | Patrick Lynskey | 1 |
| 198 | Robert Owen | 1 |
| 199 | Mike Gillet | 1 |
| 200 | Adrian Devine | 1 |
| 201 | Darren Armstrong | 1 |
| 202 | Shane Byrne | 1 |
| 203 | Jason Delahunty | 1 |
| 204 | Ryan Hope | 1 |
| 205 | Aled Goode | 1 |
| 206 | Chris White | 1 |
| 207 | Ryan Craddock | 1 |
| 208 | Shaun Fox | 1 |
| 209 | Philip Wathen | 1 |
| 210 | Ian Jopling | 1 |
| 211 | Rees Hall | 1 |
| 212 | Robert Stansbury | 1 |
| 213 | Shane Price | 1 |
| 214 | Grant Whittaker | 1 |
| 215 | Jimmy McKirdy | 1 |
| 216 | Adam Jenkinson | 1 |
| 217 | Samuel Ridgway | 1 |
| 218 | Derek Coulson | 1 |
| 219 | Jason Wilson | 1 |
| 220 | Matt Padgett | 1 |
| 221 | Stuart Duncan | 1 |
| 222 | Jack Main | 1 |
| 223 | Hywel Manuel | 1 |
| 224 | Dan Read | 1 |
| 225 | Kelvin Hart | 1 |
| 226 | Scott Darbyshire | 1 |
| 227 | Tony Wood | 1 |
| 228 | Callum Francis | 1 |
| 229 | Perry Davenport | 1 |
| 230 | Cavan Phillips | 1 |
| 231 | Gary Court | 1 |
| 232 | Chris Mathews | 1 |
| 233 | Simon Preston | 1 |
| 234 | Harry Robinson | 1 |
| 235 | John Court | 1 |
| 236 | Yuki Yamada | 1 |
| 237 | Eddie Lovely | 1 |
| 238 | Ryan Furness | 1 |
| 239 | Stephen Gallimore | 1 |
| 240 | John Crossley | 1 |
| 241 | Ricky King | 1 |
| 242 | Mark Stephenson | 1 |
| 243 | David Carr | 1 |
| 244 | Ian Lever | 1 |
| 245 | Allen Baldock | 1 |
| 246 | Stu Wilson-1977 | 1 |
| 247 | Andy Derrick | 1 |
| 248 | Kevin McDine | 1 |
| 249 | Michael Harrison | 1 |
| 250 | Padraig Balfe | 1 |
| 251 | Mark Frost | 1 |
| 252 | David Walker | 1 |
| 253 | Martin Grearson | 1 |
| 254 | James Duncan | 1 |
| 255 | Richard Langlois | 1 |
| 256 | Matthew-Joseph Smith | 1 |
| 257 | Patrick Quinn | 1 |
| 258 | Adam Huckvale | 1 |
| 259 | Nick Fullwell | 1 |
| 260 | Phillip Goodwin | 1 |
| 261 | Scott Ridler | 1 |
| 262 | Terry Creed | 1 |
| 263 | Stephen Harradine | 1 |
| 264 | Josh Habgood | 1 |
| 265 | Michael McCloskey | 1 |
| 266 | Daniel Cox | 1 |
| 267 | Tom Lonsdale | 1 |
| 268 | Aaron Argyle | 1 |
| 269 | Trevor Vallely | 1 |
| 270 | Darrell Hodgson | 1 |
| 271 | Derek Lumley | 1 |
| 272 | Daniel O'Donnell | 1 |
| 273 | David Calvert | 1 |
| 274 | Rachel Brooks | 1 |
| 275 | William Thexton | 1 |
| | ALL OTHERS | 0pts |
Final European QSOoM
| | | |
| --- | --- | --- |
| | Player | Points |
| 1 | Dirk van Duijvenbode | 18 |
| 2 | Wesley Harms | 17 |
| 3 | Derk Telnekes | 16 |
| 4 | Martijn Kleermaker | 15 |
| 5 | Daniel Larsson | 15 |
| 6 | Boris Krcmar | 14 |
| 7 | Krzysztof Kciuk | 14 |
| 8 | Zoran Lerchbacher | 13 |
| 9 | Cody Harris | 13 |
| 10 | Thibault Tricole | 12 |
| 11 | Rusty-Jake Rodriguez | 12 |
| 12 | Dennis Nilsson | 12 |
| 13 | Danny van Trijp | 12 |
| 14 | Berry van Peer | 12 |
| 15 | Ronny Huybrechts | 11 |
| 16 | Lukasz Sawicki | 10 |
| 17 | Michael Hurtz | 10 |
| 18 | Wesley Plaisier | 10 |
| 19 | Franz Roetzsch | 10 |
| 20 | Jose-Antonio Justicia-Perales | 9 |
| 21 | Michael Unterbuchner | 9 |
| 22 | Kevin Munch | 9 |
| 23 | Justin van Tergouw | 9 |
| 24 | Kevin Doets | 9 |
| 25 | Kevin Blomme | 9 |
| 26 | Mario Vandenbogaerde | 8 |
| 27 | Szabolcs Nemeth | 8 |
| 28 | Ondrej Kysilka | 8 |
| 29 | Kay Smeets | 8 |
| 30 | Willem Mandigers | 8 |
| 31 | Gabriel Pascaru | 8 |
| 32 | Richard Veenstra | 8 |
| 33 | Philipp Spindler | 8 |
| 34 | Dragutin Horvat | 8 |
| 35 | Marek Polyak | 8 |
| 36 | Jeffrey de Graaf | 7 |
| 37 | Tytus Kanik | 7 |
| 38 | Jeffrey Van Egdom | 7 |
| 39 | Romeo Grbavac | 7 |
| 40 | Zdravko Antunovic | 7 |
| 41 | Sebastian Pohl | 7 |
| 42 | Wouter Vaes | 7 |
| 43 | Wessel Nijman | 6 |
| 44 | Ryan de Vreede | 6 |
| 45 | Brian Raman | 6 |
| 46 | Jimmy Hendriks | 6 |
| 47 | Owen Roelofs | 6 |
| 48 | Paulo Ferreira | 6 |
| 49 | Nico Blum | 6 |
| 50 | Fabian Herz | 6 |
| 51 | Arjan Konterman | 6 |
| 52 | Andrew Beeton | 6 |
| 53 | Michele Turetta | 6 |
| 54 | Paolo Trutalli | 6 |
| 55 | Dennie Olde-Kalter | 6 |
| 56 | Mario Robbe | 5 |
| 57 | Jose Marques | 5 |
| 58 | James Bailey | 5 |
| 59 | Jeffrey Sparidaans | 5 |
| 60 | Pero Ljubic | 5 |
| 61 | Christian Kist | 5 |
| 62 | Stefan Bellmont | 5 |
| 63 | Tonny Veenhof | 5 |
| 64 | Patrick Plotz | 5 |
| 65 | Radek Szaganski | 5 |
| 66 | Kai Gotthardt | 5 |
| 67 | Thomas Junghans | 5 |
| 68 | Daniel Barborak | 5 |
| 69 | Richard van Zijtveld | 5 |
| 70 | Jitse van der Wal | 5 |
| 71 | Ivan Springborg-Poulsen | 5 |
| 72 | Sead Nicevic | 5 |
| 73 | Gino Vos | 4 |
| 74 | Julio Barbero-Gonzalez | 4 |
| 75 | Erik Tautfest | 4 |
| 76 | Patrick Tringler | 4 |
| 77 | Dragutin Pecnjak | 4 |
| 78 | Pavel Drtil | 4 |
| 79 | Sebastian Bialecky | 4 |
| 80 | Chris Landman | 4 |
| 81 | Michal Ondo | 4 |
| 82 | Andreas Harrysson | 4 |
| 83 | Benjamin Pratnemer | 4 |
| 84 | Armando Slotboom | 4 |
| 85 | Jeremy van der Winkel | 4 |
| 86 | Filip Sebesta | 4 |
| 87 | Janos Vegso | 4 |
| 88 | Roemer Mooijman | 4 |
| 89 | Kenny Neyens | 4 |
| 90 | Lukas Wenig | 4 |
| 91 | Manfred Bilderl | 4 |
| 92 | Leo Hendriks | 4 |
| 93 | Ricardo Perez-Ibarra | 4 |
| 94 | Marcel Gerdon | 4 |
| 95 | Marco Apollonio | 4 |
| 96 | Adam Gawlas | 4 |
| 97 | Peter Schnupfhagen | 4 |
| 98 | Arsen Ballaj | 4 |
| 99 | Robert Marijanovic | 4 |
| 100 | Andy Baetens | 4 |
| 101 | Christian Kallinger | 4 |
| 102 | Rene Berndt | 4 |
| 103 | Mareno Michels | 3 |
| 104 | Jarno Braamskamp | 3 |
| 105 | Niels-Joergen Hansen | 3 |
| 106 | Patrick Peters | 3 |
| 107 | Youri Duijster | 3 |
| 108 | Boris Koltsov | 3 |
| 109 | Danny van Klompenburg | 3 |
| 110 | Michael Plooy | 3 |
| 111 | Marcel Gugger | 3 |
| 112 | Andreas Frei | 3 |
| 113 | Markus Kessler | 3 |
| 114 | Martin Dufek | 3 |
| 115 | Martin Sevcov | 3 |
| 116 | Patrik Kovacs-HUN | 3 |
| 117 | Sebastian Steyer | 3 |
| 118 | Davy van der Zande | 3 |
| 119 | Fabian Roosenbrand | 3 |
| 120 | Gergely Lakatos | 3 |
| 121 | Michal Smejda | 3 |
| 122 | Andreas Schnellhardt | 3 |
| 123 | David Pisek | 3 |
| 124 | Johan Engstrom | 3 |
| 125 | Mindaugas Barauskas | 3 |
| 126 | Niels Heinsoe | 3 |
| 127 | Zereso Zeverboom | 3 |
| 128 | Claus-Bendix Nielsen | 3 |
| 129 | Alexander Masek | 3 |
| 130 | Tom Veje-Kristensen | 3 |
| 131 | Patrick Heitmueller | 3 |
| 132 | Pavel Jirkal | 3 |
| 133 | Wesley van Trijp | 3 |
| 134 | Raphael Leufgen | 3 |
| 135 | Marco Obst | 3 |
| 136 | Johan Singerling | 3 |
| 137 | Christopher Haensch | 3 |
| 138 | Mitchell Von Schukkmann | 3 |
| 139 | Michal Zarybnicky | 3 |
| 140 | Sven Vogelsberg | 2 |
| 141 | Michael Rasztovits | 2 |
| 142 | Vitezslav Sedlak | 2 |
| 143 | Maikel Verberk | 2 |
| 144 | Angel-Martin Sanchez | 2 |
| 145 | Frantisek Mika | 2 |
| 146 | Spyridon Ballas | 2 |
| 147 | Gabriel-Florin Olar | 2 |
| 148 | Patrick Bulen | 2 |
| 149 | Jens Kniest | 2 |
| 150 | Konstantinos Samaras | 2 |
| 151 | Roman Benecky | 2 |
| 152 | Rowdy Schoremans | 2 |
| 153 | Kevin Vennik | 2 |
| 154 | Karsten Koch | 2 |
| 155 | Toon Greebe | 2 |
| 156 | Levy Frauenfelder | 2 |
| 157 | Bent Lambertsen | 2 |
| 158 | Marvin van Velzen | 2 |
| 159 | Wesley Bour | 2 |
| 160 | Marcel Althaus | 2 |
| 161 | Veniamin Symeonidis | 2 |
| 162 | Dolf Reker | 2 |
| 163 | Gabriel Rollo | 2 |
| 164 | Robin Beger | 2 |
| 165 | Vincent Kamphuis | 2 |
| 166 | Gian van Veen | 2 |
| 167 | Tobias Mueller | 2 |
| 168 | Pal Szekely | 2 |
| 169 | Stefano Roso | 2 |
| 170 | Dennis van der Ende | 2 |
| 171 | Erik Hol | 2 |
| 172 | Marina Letica | 2 |
| 173 | David Haberberger | 2 |
| 174 | Peter Hubinger | 2 |
| 175 | Andreas Gradert | 2 |
| 176 | Lorenzo Van Hove | 2 |
| 177 | Simeon Heinz | 2 |
| 178 | Matthias Orn-Fridriksson | 2 |
| 179 | Hannes Schnier | 2 |
| 180 | Thomas Kohnlein | 2 |
| 181 | Sebastian Fey | 2 |
| 182 | Stefan Taferner | 2 |
| 183 | Pavel Kodera | 2 |
| 184 | Ole Luckow | 2 |
| 185 | Daniel Klose | 2 |
| 186 | Danny Tessmann | 1 |
| 187 | Marvin Wehder | 1 |
| 188 | Vitor-Manuel Gurerra-Charrua | 1 |
| 189 | Christian Jentschke | 1 |
| 190 | Wim Hofsink | 1 |
| 191 | Christian Goedl | 1 |
| 192 | Stefan Nilles | 1 |
| 193 | Jerry Hendriks | 1 |
| 194 | Aaron Hardy | 1 |
| 195 | Alessio Marconi | 1 |
| 196 | Aron Boroczi | 1 |
| 197 | Dimitrij Gorbunov | 1 |
| 198 | Andrea Micheletti | 1 |
| 199 | Sebastian Oschitzki | 1 |
| 200 | Dominik Thiel | 1 |
| 201 | Paul Pohl | 1 |
| 202 | Marek Raz | 1 |
| 203 | Cor Ernst | 1 |
| 204 | Ronald Balfoort | 1 |
| 205 | Nico Wagner | 1 |
| 206 | Willi Zimmermann | 1 |
| 207 | Glenn Leysen | 1 |
| 208 | Wilco Vermeulen | 1 |
| 209 | Sandor Ballo | 1 |
| 210 | Wesley Brown | 1 |
| 211 | Michael Stoeten | 1 |
| 212 | Martin Christiansen | 1 |
| 213 | Anton Salge | 1 |
| 214 | Anoop Ramdajal | 1 |
| 215 | Nandor Major | 1 |
| 216 | Maurice Boeve | 1 |
| 217 | Roxy-James Rodriguez | 1 |
| 218 | Lukas Grygar | 1 |
| 219 | Nico Kurz | 1 |
| 220 | Peter van den Broek | 1 |
| 221 | Timo Koenig | 1 |
| 222 | Rene Fricke | 1 |
| 223 | Rohan Brouwers | 1 |
| 224 | Patrick van den Boogaard | 1 |
| 225 | Michel Furlani | 1 |
| 226 | Sander van Beem | 1 |
| 227 | Erik Poliak | 1 |
| 228 | Thomas Lazic | 1 |
| 229 | Matthias Wagner | 1 |
| 230 | Christoph Mayer | 1 |
| 231 | Joshua Hermann | 1 |
| 232 | Fons Hardeman | 1 |
| 233 | Kevin Knopf | 1 |
| 234 | Dennis Akhtar | 1 |
| 235 | Manuel Sanwald | 1 |
| 236 | Erik Meulenmeesters | 1 |
| 237 | Alexander Merkx | 1 |
| 238 | Andreas-Dirk Sauer | 1 |
| 239 | Karl Cron | 1 |
| 240 | Nico Riehle | 1 |
| 241 | Karel Papezik | 1 |
| | ALL OTHERS | 0pts |