World Youth Championship Last 96
World Youth Championship Last 96
Entry Deadline Sunday 4 November
TEN more international qualifiers have secured their place in the 2018 PDC Unicorn World Youth Championship.
The event has expanded to 96 players with a prize fund of £60,000 this year, providing greater opportunities for young players from across the globe. There will be up to 72 qualifiers from the PDC Unicorn Development Tour Order of Merit, alongside any age-qualified players inside the top 32 on the main PDC Order of Merit.
They will be joined by 24 international qualifiers from across the world to compete in the early rounds on Monday November 5 at Wigan's Robin Park Tennis Centre. Heading the latest list of ten international qualifiers is China's Xiaochen Zong, who starred in the 2018 World Darts Championship and represented his country in June's World Cup of Darts.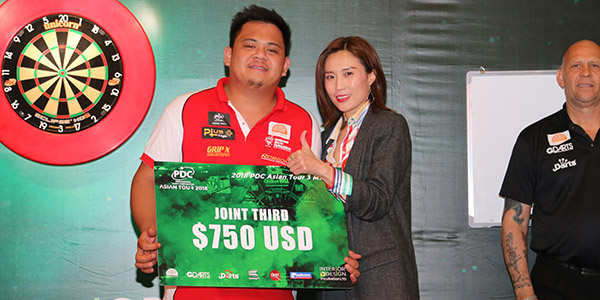 Zong (main image) is joined by Paolo Nebrida (Asia, pictured above) Sean Coohill (USA), Logan Crooks (Canada), Nicolai Rasmussen and Hampus Norrstrom (both Nordic & Baltic), Jack Faragher and Keane Barry (both Ireland/NI) and Maxim Aldoshin (Russia).
In a change for the Australian qualifiers, Ryan Lynch has replaced Corey Cadby for the 2018 event. Further qualifying events will be held over the next month ahead of the early rounds on November 5 at the Robin Park Tennis Centre in Wigan.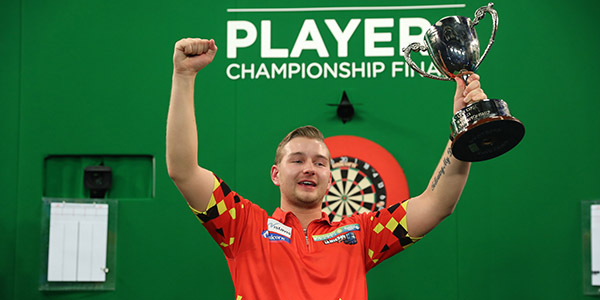 Belgium's Dimitri Van den Bergh will defend his title in November, having claimed the honour in 2017 by defeating Josh Payne in the final. Also among the players to have secured qualification is Canada's Dawson Murschell has qualified as the best-performing eligible player at the recent William Hill North American Championship.
Lynch joins Steve Fitzpatrick in qualifying from the DartPlayers Australia rankings, while Kiwi talent Tahuna Irwin won the DartPlayers New Zealand qualifier. German duo Sven Hesse and Lukas Wenig are further qualifiers, alongside Gibraltar's Jarvis Bautista, America's Sean Coohill, Canada's Logan Crooks and South Africa's Alexander Faddel.
Further qualifying events will be held in the USA, Canada, China, Asia, Russia, Ireland, across Europe and through PDC Nordic and Baltic, while two players will represent the Junior Darts Corporation. One further weekend remains on the PDC Unicorn Development Tour for players to qualify, on November 3-4 in Wigan.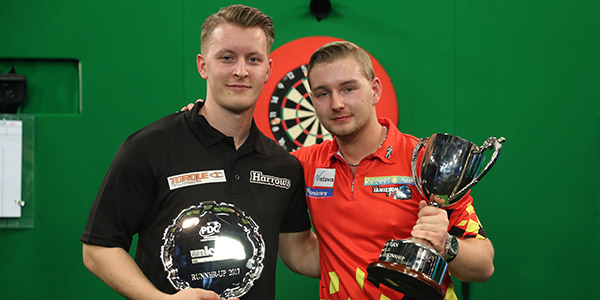 The first round will be a group stage featuring 32 groups of three players, with the group winners progressing to compete in a knockout format from the last 32 onwards. The final will then take place on Sunday November 25 at the Butlin's Minehead Resort between the semi-finals and final of the Players Championship Finals, live on ITV4.
An additional £10,000 has been added to the prize fund for the World Youth Championship, with the winner also securing a place in the 2018/2019 World Championship and the finalists qualifying for the 2019 Grand Slam of Darts.
Prize Fund:
Winner - £10,000, Place in 2018/2019 World Championship preliminary round and a Place in 2019 Grand Slam of Darts
Runner-Up - £5,000, Place in 2019 Grand Slam of Darts
Semi-Finalists - £2,500
Quarter-Finalists - £1,600
Last 16 - £1,000
Last 32 - £500
Second in Group - £300
Third in Group - £250
Total - £60,000
Early Rounds Last 96:
November 5th 2018, Robin Park Tennis Centre, Wigan
Format:
The group stage will be the best of nine legs per match, with two points awarded per win.
In the event of a tie, players are separated by head-to-head, or in the case of a three-way tie by leg difference, then head-to-head and, if needed, a three-way nine-dart shoot-out.
The knockout stage will be the best of 11 legs.
Final:
November 25th 2018 – Butlin's Minehead Resort
Field:
Invitations will be issued to the following players:
Players aged 23 or under from the top 32 of the PDC Order of Merit
Up to 72 players from the final 2018 PDC Unicorn Development Tour Order of Merit
24 Invitations, as follows:
USA, Canada, Best-performing player from 2018 North American Championship, China, Asia x2, Australia x2, New Zealand, Nordic & Baltic x2, Germany x2, Gibraltar, Ireland x2, Russia, JDC x2, Central Europe, Eastern Europe, Southern Europe, South Africa. Once place TBC.
Confirmed International Qualifiers:
Sean Coohill (USA)
Logan Crooks (Canada)
Dawson Murschell (NADC Best Age-Qualified Player)
Xiaochen Zong (China)
Paolo Nebrida (Asia)
Steve Fitzpatrick (Australia)
Ryan Lynch (Australia)
Tahuna Irwin (New Zealand)
Nicolai Rasmussen (Nordic & Baltic)
Hampus Norrstrom (Nordic & Baltic)
Sven Hesse (Germany)
Lukas Wenig (Germany)
Jarvis Bautista (Gibraltar)
Jack Faragher (Ireland/NI)
Keane Barry (Ireland/NI)
Maxim Aldoshin (Russia)
TBC:
Japan
Central Europe
Eastern Europe
Southern Europe
South Africa
JDC X2
Registration on the day:
Doors Open - 11.00
Registration - 11.00/13.00
Registration Closes and draw done - 13.00
Toe the Oche - 30 Minutes after draw is completed
Travel to the Robin Park, WIGAN
Venue:
Robin Park Leisure Centre, Loire Drive, Newtown Wigan.
Website: