Development Tour 2018
Dimitri van den Bergh and Ted Evetts were the winners on day 2 of the weekends Development Tour events as it concluded over this weekend from Wigan, with the World Youth Championship Last 96 on Monday.
The Final 4 PDC Unicorn Development Tour events of 2018 are over this weekend from Robin Park, Wigan.
The top 2 players on this table win a PDC Tour Card for 2019/2020, with both these players also qualifying for there World Championship. Up to the top 74 players on the final DTOoM will also qualify for the World Youth Championship which is on Monday.
The two players to qualify for the 2018/2019 William Hill World Darts Championship via the Unicorn Development Tour will be confirmed this weekend. Ted Evetts, who competed at last year's World Championship, is in line for a return, while George Killington currently occupies the second qualification place.
For the full table CLICK HERE This table will be updated following Saturdays events and a final table will be announced after play on Sunday evening.
Sunday November 3rd Robin Park Leisure Centre, Wigan: Event 19
Quarter Final
John Brown 5-2 Patrick van den Boogaard
Geert Nentjes 5-0 Jack Male
Jimmy Hendriks 5-2 William Borland
Dimitri Van den Bergh 5-2 Harry Ward
Semi Final
Geert Nentjes 5-0 John Brown
Jimmy Hendriks 2-5 Dimitri Van den Bergh
Final
Geert Nentjes 3-5 Dimitri Van den Bergh
Full Results Click Here
Sunday November 3rd Robin Park Leisure Centre, Wigan: Event 20
Quarter Final
Berry van Peer 5-1 Patrik Kovacs
Ted Evetts 5-2 Danny Van Trijp
Jeffrey de Zwaan 5-4 Dimitri Van den Bergh
Christian Bunse 5-2 Luke Humphries
Semi Final
Berry van Peer 2-5 Ted Evetts 
Jeffrey de Zwaan 3-5 Christian Bunse

Final
Ted Evetts 5-4 Christian Bunse
Full Results Click Here
Final DTOoM Table Top 100
| | | |
| --- | --- | --- |
| 1 | Humphries, Luke | £8,000 |
| 1 | Van den Bergh, Dimitri | £8,000 |
| 3 | Evetts, Ted | £7,800 |
| 4 | Nentjes, Geert | £6,350 |
| 5 | Schindler, Martin | £5,950 |
| 6 | Killington, George | £5,300 |
| 7 | Rodriguez, Rowby-John | £5,200 |
| 8 | Meikle, Ryan | £4,450 |
| 9 | Zonneveld, Niels | £4,400 |
| 10 | Bunse, Christian | £4,350 |
| 11 | Cole, Jarred | £4,150 |
| 12 | Rafferty, Nathan | £3,750 |
| 13 | Peer, Berry van | £3,650 |
| 14 | Neyens, Kenny | £3,400 |
| 15 | Nijman, Wessel | £3,300 |
| 15 | Hewson, Rob | £3,300 |
| 17 | Brooks, Bradley | £3,000 |
| 18 | Hendriks, Jimmy | £2,800 |
| 18 | Murschell, Dawson | £2,800 |
| 20 | Gardner, George | £2,650 |
| 21 | Kirk, Bradley | £2,400 |
| 21 | Tergouw, Justin van | £2,400 |
| 23 | De Decker, Mike | £2,350 |
| 23 | Griffin, Rhys | £2,350 |
| 25 | Wilson, Tommy | £2,250 |
| 26 | Rodriguez, Rusty-Jake | £2,100 |
| 26 | Budgen, Lee | £2,100 |
| 28 | Hayden, Rhys | £2,050 |
| 29 | Raman, Brian | £2,000 |
| 29 | Dale, Scott | £2,000 |
| 29 | Fijter, Melvin de | £2,000 |
| 29 | Davis, Joe | £2,000 |
| 33 | Borland, William | £1,900 |
| 33 | McCarthy, Josh | £1,900 |
| 35 | Rydz, Callan | £1,800 |
| 36 | Ward, Harry | £1,750 |
| 37 | Trijp, Danny van | £1,700 |
| 37 | Boyce, Jordan | £1,700 |
| 39 | Zwaan, Jeffrey de | £1,650 |
| 40 | Lonsdale, Tom | £1,600 |
| 41 | McGuirk, Shane | £1,500 |
| 41 | Pride, Lewis | £1,500 |
| 41 | Ritchie, Greg | £1,500 |
| 44 | Duivenbode, Mike van | £1,350 |
| 45 | Doets, Kevin | £1,250 |
| 45 | Blum, Nico | £1,250 |
| 47 | Boogaard, Patrick van den | £1,200 |
| 48 | Finn, Dean | £1,150 |
| 49 | Loose, Callum | £1,050 |
| 50 | Brown, John | £1,000 |
| 50 | Groen, Sven | £1,000 |
| 50 | Baxter, Mark | £1,000 |
| 50 | Verberk, Maikel | £1,000 |
| 54 | Lovely, Thomas | £950 |
| 54 | Batchelor, Carl | £950 |
| 56 | Smith, Justin | £900 |
| 57 | Eggermann, Hendrik | £850 |
| 57 | Selby-Rivas, Jaikob | £850 |
| 59 | Powell, Dylan | £800 |
| 60 | Jackson, Scott | £750 |
| 60 | Haensch, Christopher | £750 |
| 60 | Kelly, Jakob | £750 |
| 63 | Box, Fred | £700 |
| 64 | Male, Jack | £650 |
| 64 | Schlund, Nico | £650 |
| 64 | Paxton, Adam | £650 |
| 64 | Key, Danny | £650 |
| 68 | Mayes, Conor | £600 |
| 68 | Kay, Keelan | £600 |
| 68 | Pohl, Sebastian | £600 |
| 68 | Watson, Adam | £600 |
| 68 | Vincent, Jack | £600 |
| 68 | Davidson, Andrew | £600 |
| 68 | Cox, Declan | £600 |
| 75 | Main, Jack | £550 |
| 75 | Holdstock, Aaron | £550 |
| 75 | Matthews, Callum | £550 |
| 75 | Frauenfelder, Levy | £550 |
| 75 | Turner, Curtis | £550 |
| 75 | Moston, Jim | £550 |
| 75 | Maiden, Owen | £550 |
| 75 | Johnson, Sean | £550 |
| 75 | Thomas, Daniel | £550 |
| 84 | Singh, Jordan | £500 |
| 84 | Burksfield, Joshua | £500 |
| 84 | Atkinson, Adam | £500 |
| 84 | Read, Dan | £500 |
| 84 | O'Toole, James | £500 |
| 84 | Cromwell, Sam | £500 |
| 84 | Jolly, Rory | £500 |
| 84 | Barberan, Luis | £500 |
| 92 | Davies, Josh | £450 |
| 92 | Van den Bergh, Viani | £450 |
| 92 | Dickinson, Jack | £450 |
| 92 | Richardson, Joshua | £450 |
| 92 | Colley, Reece | £450 |
| 92 | Rosney, Stephen | £450 |
| 92 | Cheeseman, Ben | £450 |
| 99 | Fitzpatrick, Steven | £400 |
| 99 | Kovacs, Patrik | £400 |
| 99 | Rasmussen, Nicolai | £400 |
| 99 | Wenig, Lukas | £400 |
| 99 | Lishman, Tommy | £400 |
| 99 | Thexton, William | £400 |
| 99 | Kerr, Jack | £400 |
| 99 | Troppmann, Kevin | £400 |
| 99 | Ellis, Nicholas | £400 |
| 99 | Anderson, Cameron | £400 |
| 99 | Humpula, Frantisek | £400 |
Full 2018 Development Tour Results
Saturday November 3rd Robin Park Leisure Centre, Wigan: Event 18
Berry van Peer 5-4 Geert Nentjes
Saturday November 3rd Robin Park Leisure Centre, Wigan: Event 17
Luke Humphries 5-1 Bradley Brooks
Sunday September 23rd – East of England Arena, Peterborough: Event 16
Jarred Cole 5-1 Christian Bunse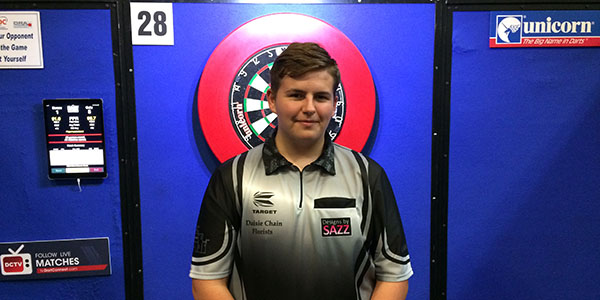 Sunday September 23rd – East of England Arena, Peterborough: Event 15
Dimitri Van den Bergh 5-3 Lee Budgen
Saturday September 22nd – East of England Arena, Peterborough: Event 14
George Killington 5-3 Christian Bunse
Saturday September 22nd – East of England Arena, Peterborough: Event 13
Luke Humphries 5-4 Justin van Tergouw
PDC UNICORN Development Tour 12 Robin Park, Wigan
Ted Evetts 5-2 Dimitri van den Bergh

PDC UNICORN Development Tour 11 Robin Park, Wigan
Ryan Meikle 5-3 Rowby John Rodriguez

PDC UNICORN Development Tour 10 Robin Park, Wigan
Martin Schindler 5-1 George Gardner

PDC UNICORN Development Tour 9 Robin Park, Wigan
Martin Schindler 5-0 Dimitri van den Bergh

PDC UNICORN Development Tour 8 Hildesheim, Germany
PDC UNICORN Development Tour 7 Hildesheim, Germany
PDC UNICORN Development Tour 6 Hildesheim, Germany
PDC UNICORN Development Tour 5 Hildesheim, Germany
PDC UNICORN Development Tour 4 Robin Park, Wigan
PDC UNICORN Development Tour 3 Robin Park, Wigan
Rob Hewson 5-3 Melvin de Fijter

PDC UNICORN Development Tour 2 Robin Park, Wigan
Wessel Nijman 5-4 Bradley Brooks

PDC UNICORN Development Tour 1 Robin Park, Wigan
Nathan Rafferty 5-3 Dawson Murshell

2018 PDC Unicorn Development Tour Order of Merit:
1. Martin Schindler – £5,950 (qualified via ProTour Order of Merit)
2. Dimitri Van den Bergh – £5,700 (qualified via ProTour Order of Merit)
3. Ted Evetts – £5,700
4. Luke Humphries – £5,400 (qualified via ProTour Order of Merit)
5. Rowby-John Rodriguez – £4,750 (South-East Europe Qualifier)
6. George Killington – £4,600
7. Geert Nentjes – £4,100
8. Jarred Cole – £4,000
9. Ryan Meikle – £3,750
10. Niels Zonneveld – £3,700
11. Nathan Rafferty – £3,500
12. Kenny Neyens – £3,200
13. Christian Bunse – £3,150
14. Wessel Nijman – £3,150
15. Rob Hewson – £3,150
16. Dawson Murschell – £2,750
17. George Gardner – £2,500
18. Rhys Griffin – £2,250
19. Tommy Wilson – £2,150
20. Jimmy Hendriks – £2,100