2019 PDC Asian Tour
PDPA Asian Representative:
The PDPA will shortly also have there own PDPA representative for the oceanic regions and details will be announced here. This is for players in this area to have someone they know to contact for any issues, information or rules. So these can be brought to us to deal with.
Name: TBC
CV: TBC
Contact Details: TBC
Events One & Two – Seoul
ROYDEN LAM and Paul Lim shared victories on the opening weekend of the 2019 PDC Asian Tour in Seoul.
Event One – Royden Lam 5-4 Paul Lim
Event Two – Paul Lim 5-2 Kevin Leung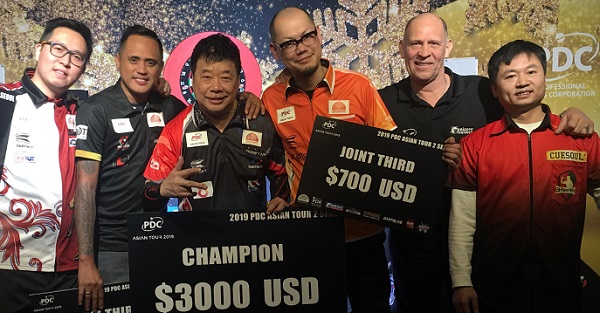 For further details and entry information, please visit www.pdc-asia.tv
Events Three & Four February 16-17, Kobe Sanbo-Hall, Kobe
HARUKI MURAMATSU and Seigo Asada shared victories on the second weekend of the 2019 PDC Asian Tour.
Event Three – Haruki Muramatsu 5-3 Seigo Asada
Event Four – Seigo Asada 5-3 Royden Lam
Events Five & Six March 30-31 Leyte Academic Centre, Philippines
PHILIPPINES pair Lourence Ilagan and Noel Malicdem claimed victories on the third weekend of the 2019 PDC Asian Tour.
Ilagan, who won three events in 2018 to top the Order of Merit, saw off 2019 leader Royden Lam in the quarter-finals before a 5-3 victory over Yuki Yamada in the final.
Event Five -Noel Malicdem 5-2 Teng Lieh Pu Po
Event Six – Lourence Ilagan 5-3 Yuki Yamada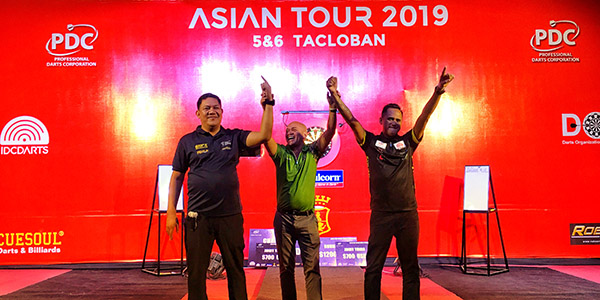 Current Table after 6 events
| Forename | Surname | Nationality | Total $ |
| --- | --- | --- | --- |
| Royden | Lam | Hong Kong | 5400 |
| Seigo | Asada | Japan | 5400 |
| Lourence | Ilagan | Philippines | 5300 |
| Paul | Lim | Singapore | 5200 |
| Noel | Malicdem | Philippines | 4600 |
| Haruki | Muramatsu | Japan | 3500 |
Events Seven & Eight
June 22-23, G Club, Taipei
Events Nine & Ten
July 27-28, Kowloonbay International Trade & Exhibition Centre, Hong Kong
Events 11 & 12
Aug 31-Sep 1, Good Cheer 2, Singapore