Template - Date: Grand Slam of Darts
Day Five of the cross-code event will saw the first four last 16 matches take place.
Dave Chisnall won through to the BoyleSports Grand Slam of Darts quarter-finals in style, averaging 102 in a 10-3 win over Ryan Harrington as the qualifier's Wolverhampton debut came to an end. Chisnall made the early running with a pair of 14-darters and also finished 104 to move 4-0 up before a superb 154 checkout got the Essex ace off the mark.
Legs of 13, 14 and 11 darts helped Chisnall into a 7-1 lead before Harrington hit back with a 13-darter and an 87 finish to pull back to 7-3. Chisnall, the 2014 finalist, restored his cushion with a 14-darter before pinning double six and double four to secure his last eight spot in a fourth successive televised event.
Wednesday November 13th
SECOND ROUND (19) 19.00hrs
Dave Chisnall 10-3 Ryan Harrington
Gabriel Clemens 9-10 Glen Durrant
Michael Smith 10-7 Daryl Gurney
Peter Wright 10-3 Rob Cross
Thursday November 14th
SECOND ROUND (19) 19.00hrs
Michael van Gerwen v Ian White
James Wade v Adrian Lewis
Gerwyn Price v Darren Webster
Gary Anderson v Robert Thornton
Friday November 15th
QUARTER FINALS (31) 19.00hrs
v
v
Saturday November 16th
QUARTER FINALS (31) 20.00hrs
v
v
Sunday November 17th
SEMI FINALS (31) 13.00hrs
v
v
FINAL (31) 19.00hrs
v
Full Group Results:
GROUP A
Michael van Gerwen 5-2 Jim Williams
Adrian Lewis 5-2 Ross Smith
Ross Smith 1-5 Jim Williams
Michael van Gerwen 5-2 Adrian Lewis
Michael Van Gerwen 5-2 Ross Smith
Jim Williams 3-5 Adrian Lewis
GROUP B
Ian White 5-1 Steve Lennon
James Wade 5-2 Wesley Harms
Steve Lennon 5-4 Wesley Harms
James Wade 5-4 Ian White
Ian White 5-4 Wesley Harms
Steve Lennon 5-4 James Wade
GROUP C
Gerwyn Price 5-3 Mikuru Suzuki
Dimitri Van den Bergh 4-5 Robert Thornton
Dimitri Van den Bergh 5-1 Mikuru Suzuki
Gerwyn Price 5-4 Robert Thornton
Gerwyn Price 5-2 Dimitri Van den Bergh
Mikuru Suzuki 3-5 Robert Thornton
GROUP D
Darren Webster 3-5 William O'Connor
Gary Anderson 5-1 Dave Parletti
Darren Webster 5-2 Dave Parletti
Gary Anderson 5-3 William O'Connor
Darren Webster 5-4 Gary Anderson
William O'Connor 2-5 Dave Parletti
GROUP E
Dave Chisnall 5-3 Jamie Hughes
Rob Cross 5-2 Lisa Ashton
Jamie Hughes 5-1 Lisa Ashton
Rob Cross 3-5 Dave Chisnall
Lisa Ashton 1-5 Dave Chisnall
Jamie Hughes 3-5 Rob Cross
GROUP F
Ryan Harrington 5-4 Danny Noppert
Peter Wright 5-2 Wayne Warren
Danny Noppert 5-1 Wayne Warren
Peter Wright 5-2 Ryan Harrington
Ryan Harrington 5-1 Wayne Warren
Peter Wright 5-2 Danny Noppert
GROUP G
Gabriel Clemens 5-1 Brendan Dolan
Daryl Gurney 5-0 Richard Veenstra
Brendan Dolan 5-1 Richard Veenstra
Daryl Gurney 4-5 Gabriel Clemens
Richard Veenstra 2-5 Gabriel Clemens
Brendan Dolan 2-5 Daryl Gurney
GROUP H
Nathan Aspinall 5-0 Martin Schindler
Michael Smith 5-3 Glen Durrant
Martin Schindler 4-5 Glen Durrant
Michael Smith 5-1 Nathan Aspinall
Nathan Aspinall 0-5 Glen Durrant
Martin Schindler 4-5 Michael Smith
Final League Tables: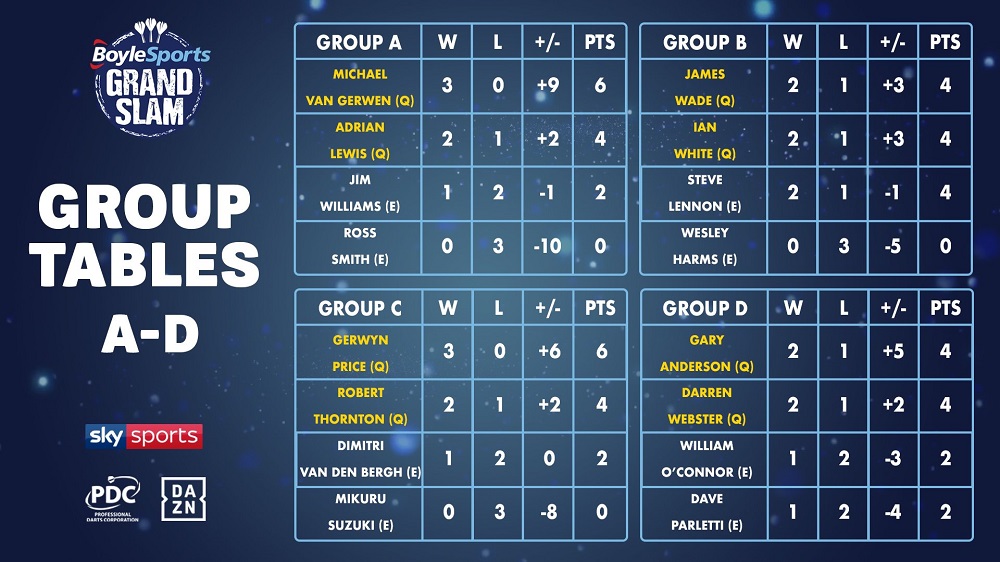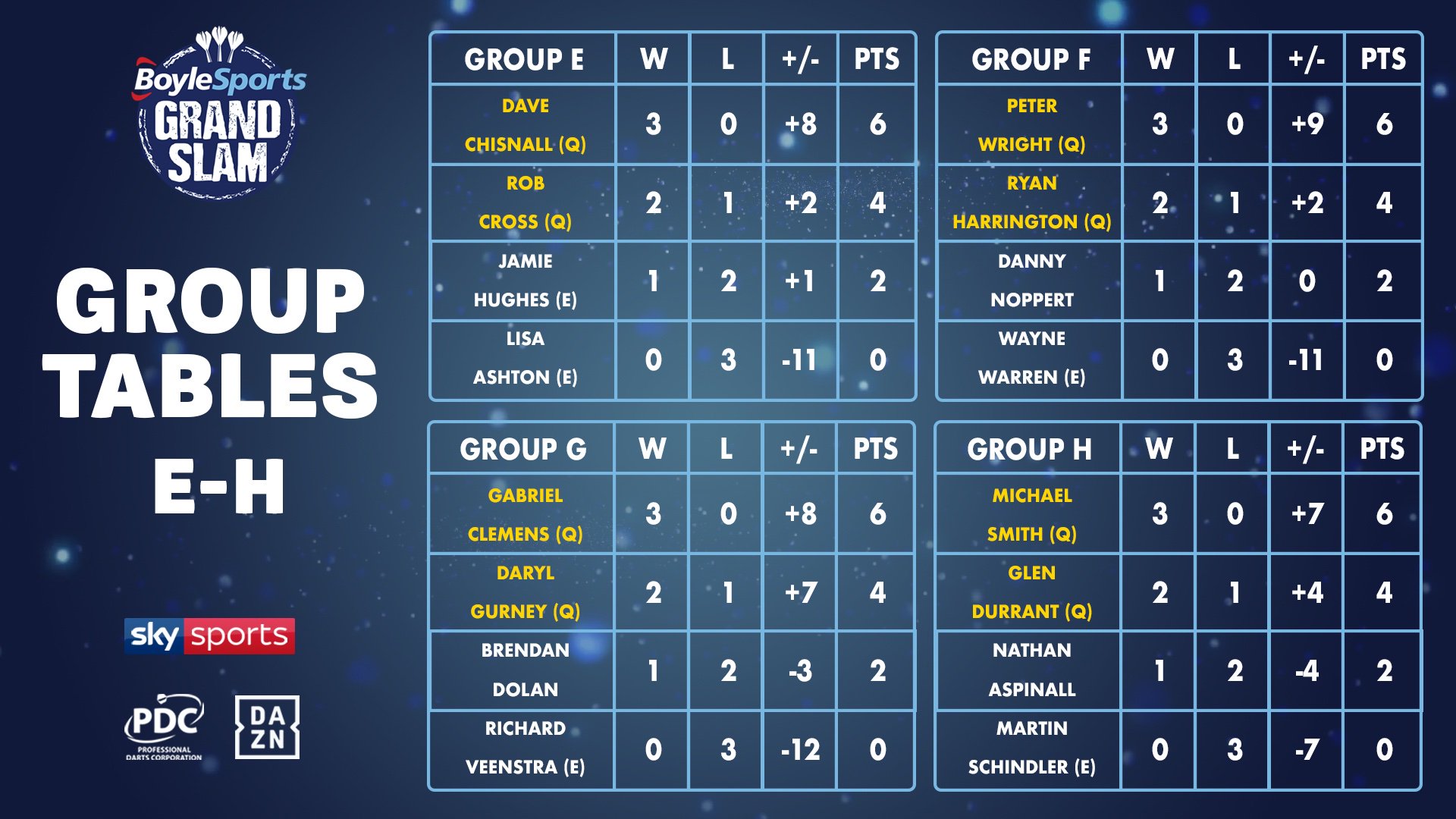 Prize Money:
Winner: £125,000
Runner Up £65,000
Semi Finalists £40,000
Quarter Finalists £20,000
Second Round Losers £10,000
Third in Group £7,500
Fourth in Group £4,000
Group Winners Bonus £3,500
TOTAL: £550,000