Template - Date: Challenge Tours 11-12
Andy Jenkins and Berry van Peer shared victories as the third PDC Unicorn Challenge Tour weekend of 2019 concluded in Peterborough on Sunday.
Van Peer, 22, claimed his first PDC Unicorn Challenge Tour title by defeating Cameron Menzies 5-2 in the Event 11 final in Peterborough. The Dutchman has won three events previously on the Development Tour and reached the World Youth Championship final, before scooping the £2,000 top prize in Sunday's opening event, a marked achievement given his ongoing battle with dartitis.
He had survived missed match darts from Peter Mitchell in their quarter-final and then saw off fellow countryman Arjan Konterman 5-3 in the last four. Menzies shared the opening four legs of the final, but Van Peer took the next three without reply – including a key 12-darter – to claim the Event 11 title.
Menzies' bid to win a third Challenge Tour title of his career saw him overcome two former winners at this level, Shaun Carroll and Barry Lynn, as well as youngster Rusty-Jake Rodriguez in the last four. Experienced Andy Jenkins, who landed a nine-darter on Saturday, was amongst the Event 11 quarter-finalists alongside Mitchell, Mark Frost and David Adshead.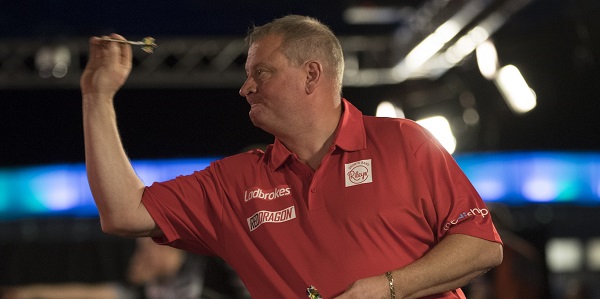 However, Jenkins would later go all the way to win Event 12 and claim his first PDC title for 13 years by edging out Boris Koltstov 5-4 in the deciding leg of their final. With the scores locked at four-all, Jenkins landed scores of 174 and 180 to set up a possible 180 before the Russian powered in a maximum of his own – and both players missed a chance to take victory before the Cosham ace snatched the title.
Jenkins also defeated Patrick Lynskey, Chas Barstow and Justin Smith in nine-leg contest, as well as seeing off Ritchie Edhouse, Scott Taylor and Simon Preston in the event. Koltsov was bidding to follow up January's Event Four victory with a second Challenge Tour win of the year, and whitewashed former UK Open champion Colin Osborne in the last eight before overcoming Jesus Noguera in the semi-finals.
Koltsov sits second on the Challenge Tour Order of Merit with £4,250 prize money following 12 events, behind leader Stephen Burton (£4,950), with Jenkins moving up to third with £3,900. The PDC Unicorn Challenge Tour continues on August 10-11 with Events 13-16 at the Aldersley Leisure Village in Wolverhampton in the fourth of five weekends being held this year.
TOP 8 after 10 events
1-Stephen Burton £4,950
2-Boris Koltzov £4,250
3-Andy Jenkins £3,900
4-Cameron Menzies £3,500
5-Jesus Noguera £3,200
6-Ritchie Edhouse £3,150
7-Cody Harris £3,100
8-Berry van Peer £3,050
Top 32 + ties from current CTOoM Table as of 14th July who can enter ET11 & ET12 Qualifiers: Stephen Burton, Andy Jenkins, Cameron Menzies, Ritchie Edhouse, Nathan Rafferty, Andrew Gilding, Shaun Carroll, Nick Fullwell, Darren Beveridge, Scott Taylor, Dave Prins, Callan Rydz, Patrick Lynskey, Mark Walsh, Martin Atkins (Wigan), Jason Wilson, Kevin Garcia, Mick Todd, Kyle McKinstry, Andy Chalmers, Paul Rowley, Dave Ladley, Jason Askew , Justin Smith, Rhys Griffin, Simon Preston, Martin Atkins (Leeds), Andy Hamilton, Darren Johnson, Brett Claydon, Tony Mitchell, Christopher Bent, Daniel Ayres, Barry Lynn, Tom Lonsdale, Prakash Jiwa.
Challenge Tour 12 – Peterborough
QUARTER FINALS
Andy Jenkins 5-1 Simon Preston
Justin Smith 5-3 Michael Rasztovits
Boris Koltsov 5-0 Colin Osbourne
Jesus Noguera 5-2 Christian Goedl
SEMI FINALS
Andy Jenkins 5-4 Justin Smith
Boris Koltsov 5-2 Jesus Noguera
FINAL
Andy Jenkins 5-4 Boris Koltsov
Challenge Tour 11 – Peterborough
QUARTER-FINALS
Rusty-Jake Rodriguez 5-4 David Adshead
Cameron Menzies 5-4 Andy Jenkins
Arjan Konterman 5-4 Mark Frost
Berry van Peer 5-4 Peter Mitchell
SEMI-FINALS
Cameron Menzies 5-2 Rusty-Jake Rodriguez
Berry van Peer 5-3 Arjan Konterman
FINAL
Berry van Peer 5-2 Cameron Menzies
Challenge Tour 10 – Peterborough
QUARTER FINALS
Nick Fullwell 5-4 Kyle McKinstry
Shane McGuirk 5-4 Paul Rowley
Cody Harris 5-2 Scott Taylor
Nick Fulwell 5-2 Mareno Michels
SEMI FINALS
Nick Fullwell 5-2 Cody Harris
Shane McGuirk 3-5 Nathan Rafferty
FINAL
Nick Fullwell 5-1 Nathan Rafferty
Challenge Tour 9 – Peterborough
QUARTER FINALS
Cody Harris 5-2 Boris Koltsov
Jason Wilson 5-3 Andy Chalmers
Martin Atkins 5-4 Andrew Gilding
Andy Jenkins 5-4 Dave Ladley
SEMI FINALS
Cody Harris 5-1 Jason Wilson
Martin Atkins 5-3 Andy Jenkins
FINAL
Cody Harris 5-1 Martin Atkins
Challenge Tour 8 – Wigan
PDC Unicorn Challenge Tour Event Eight
QUARTER FINALS
Patrick van den Boogaard 5-1 Ian Withers
Paul Rowley 4-5 Dave Prins
Kevin Garcia 5-1 Kevin Lane
Stephen Burton 5-4 Rhys Griffin
SEMI FINALS
Patrick van den Boogaard 5-3 Dave Prins
Kevin Garcia 2-5 Stephen Burton
FINAL
Patrick van den Boogaard 4-5 Stephen Burton
Challenge Tour 7 – Wigan
PDC Unicorn Challenge Tour Event Seven
QUARTER FINALS
Arjan Konterman 5-1 Scott Taylor
Mark Walsh 5-2 James Barton
Jesus Noguera 5-1 Callan Rydz
Stephen Burton 5-1 Andy Jenkins
SEMI FINALS
Arjan Konterman 3-5 Mark Walsh
Jesus Noguera 5-3 Stephen Burton
FINAL
Mark Walsh 1-5 Jesus Noguera
Challenge Tour 5 – Wigan
QUARTER FINALS
Andy Jenkins 5-1 Berry van Peer
Darren Beveridge 5-4 Jason Cullen
Callan Rydz 5-4 Dennis Nilsson
Andy Chalmers 5-4 Kyle McKinstry
SEMI FINALS
Andy Jenkins 1-5 Darren Beveridge
Callan Rydz 5-2 Andy Chalmers
FINAL
Darren Beveridge 5-4 Callan Rydz
Challenge Tour 6 – Wigan
QUARTER FINALS
Tony Mitchell 5-4 Francis Carragher
Andrew Gilding 5-2 Danny van Trijp
Boris Koltsov 5-4 Berry van Peer
Cameron Menzies 5-1 Andy Jenkins
SEMI FINALS
Andrew Gilding 5-3 Tony Mitchell
Cameron Menzies 5-2 Boris Koltsov
FINAL
Cameron Menzies 5-2 Andrew Gilding
Challenge Tour 4
QUARTER FINALS
Danny van Trijp 2-5 Boris Koltzov
Jason Askew 5-4 Jerry Hendriks
Dave Radley 5-0 Rhys Griffin
Dave Prins 5-1 Darren Johnson
SEMI FINALS
Boris Koltzov 5-2 Jason Askew
Dave Prins 5-1 Dave Ladley
FINAL
Boris Koltzov 5-4 Dave Prins
Challenge Tour 3
QUARTER FINALS
Andrew Gilding 5-1 Mick Todd
Ritchie Edhouse 5-1 Jeffrey de Graaf
Dennis Nilsson 5-4 Anthony Brown
Scott Taylor 5-3 Andy Hamilton
SEMI FINALS
Andrew Gilding 3-5 Ritchie Edhouse
Dennis Nilsson 1-5 Scott Taylor
FINAL
Ritchie Edhouse 5-3 Scott Taylor
Challenge Tour 2
QUARTER FINALS
Diogo Portela 5-0 Mick Todd
Nathan Rafferty 5-2 Darren Herewini
Stephen Burton 5-2 Michael Rasztovits
Jason Wilson 5-4 Andrew Gilding
SEMI FINALS
Diogo Portela 3-5 Nathan Rafferty
Stephen Burton 5-3 Jason Wilson
FINAL
Nathan Rafferty 4-5 Stephen Burton
Challenge Tour 1
QUARTER FINALS
Patrick Lynskey 5-4 William Borland
Brett Claydon 5-3 Andrew Foster
Mick Todd 5-4 Ricky Williams
Shaun Carroll 5-2 Ritchie Edhouse
SEMI FINALS
Patrick Lynskey 5-2 Brett Claydon
Mick Todd 4-5 Shaun Carroll
FINAL
Patrick Lynskey 1-5 Shaun Carroll