Grand Slam of Darts
Welshman Gerwyn Price is the BoyleSports Grand Slam of Darts champion for the second year in succession.
Gerwyn Price produced a scintillating display to beat Peter Wright 16-6 on Sunday night to win the BoyleSports Grand Slam of Darts.
Price produced the performance of his life to retain the BoyleSports Grand Slam of Darts title in incredible fashion by defeating Peter Wright 16-6 in Sunday's final.
The Welshman followed up his brilliant maiden career victory over Michael van Gerwen in Sunday afternoon's semi-finals with an unstoppable display to lift the Eric Bristow Trophy once again in Wolverhampton.
Price had never previously defeated Van Gerwen in 18 previous career meetings, but emerged a 16-12 winner in their last four clash to keep his title hopes alive at the Aldersley Leisure Village.
He then wrote his name into the record books with a relentless demolition of Wright to claim back-to-back Grand Slam wins, averaging 107.86 and hitting 11 180s during a remarkbale display.
Price led 10-5 after 15 legs with an average of over 113 and no leg by either player over 15 darts in a very high quality match. Price now wins the Grand Slam of Darts for the second consecutive year after beating Gary Anderson in last years final.
The welshman defeated Michael van Gerwen and Peter Wright disposed of BDO Champion Glen Durrant in the earlier semi finals this afternoon.
Sunday November 17th
SEMI FINALS
(31 LEGS)
Peter Wright 16-11 Glen Durrant
Gerwyn Price 16-12 Michael van Gerwen
THE FINAL
(31 LEGS)
Peter Wright 6-16 Gerwyn Price
Full Group Results:
GROUP A
Michael van Gerwen 5-2 Jim Williams
Adrian Lewis 5-2 Ross Smith
Ross Smith 1-5 Jim Williams
Michael van Gerwen 5-2 Adrian Lewis
Michael Van Gerwen 5-2 Ross Smith
Jim Williams 3-5 Adrian Lewis
GROUP B
Ian White 5-1 Steve Lennon
James Wade 5-2 Wesley Harms
Steve Lennon 5-4 Wesley Harms
James Wade 5-4 Ian White
Ian White 5-4 Wesley Harms
Steve Lennon 5-4 James Wade
GROUP C
Gerwyn Price 5-3 Mikuru Suzuki
Dimitri Van den Bergh 4-5 Robert Thornton
Dimitri Van den Bergh 5-1 Mikuru Suzuki
Gerwyn Price 5-4 Robert Thornton
Gerwyn Price 5-2 Dimitri Van den Bergh
Mikuru Suzuki 3-5 Robert Thornton
GROUP D
Darren Webster 3-5 William O'Connor
Gary Anderson 5-1 Dave Parletti
Darren Webster 5-2 Dave Parletti
Gary Anderson 5-3 William O'Connor
Darren Webster 5-4 Gary Anderson
William O'Connor 2-5 Dave Parletti
GROUP E
Dave Chisnall 5-3 Jamie Hughes
Rob Cross 5-2 Lisa Ashton
Jamie Hughes 5-1 Lisa Ashton
Rob Cross 3-5 Dave Chisnall
Lisa Ashton 1-5 Dave Chisnall
Jamie Hughes 3-5 Rob Cross
GROUP F
Ryan Harrington 5-4 Danny Noppert
Peter Wright 5-2 Wayne Warren
Danny Noppert 5-1 Wayne Warren
Peter Wright 5-2 Ryan Harrington
Ryan Harrington 5-1 Wayne Warren
Peter Wright 5-2 Danny Noppert
GROUP G
Gabriel Clemens 5-1 Brendan Dolan
Daryl Gurney 5-0 Richard Veenstra
Brendan Dolan 5-1 Richard Veenstra
Daryl Gurney 4-5 Gabriel Clemens
Richard Veenstra 2-5 Gabriel Clemens
Brendan Dolan 2-5 Daryl Gurney
GROUP H
Nathan Aspinall 5-0 Martin Schindler
Michael Smith 5-3 Glen Durrant
Martin Schindler 4-5 Glen Durrant
Michael Smith 5-1 Nathan Aspinall
Nathan Aspinall 0-5 Glen Durrant
Martin Schindler 4-5 Michael Smith
Final League Tables: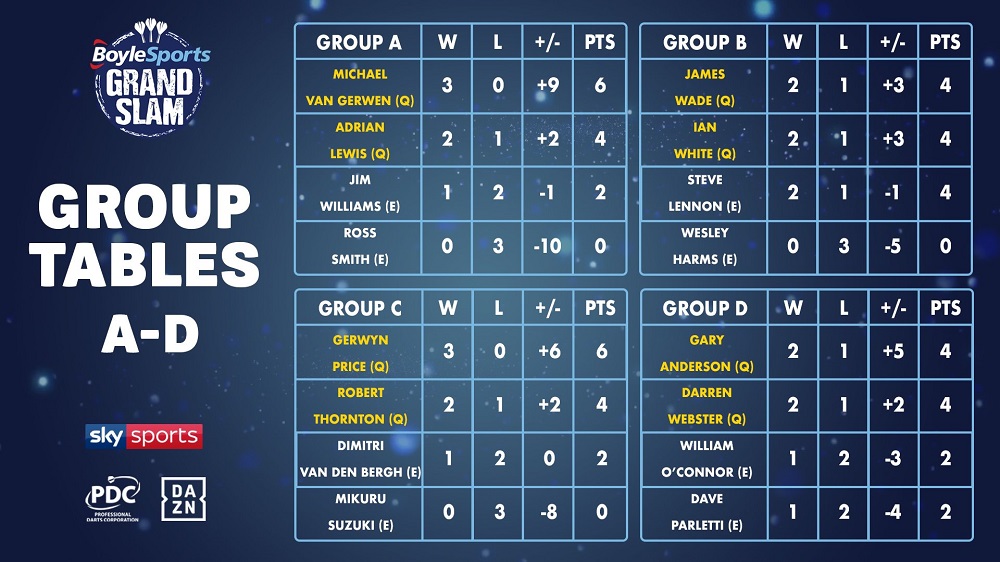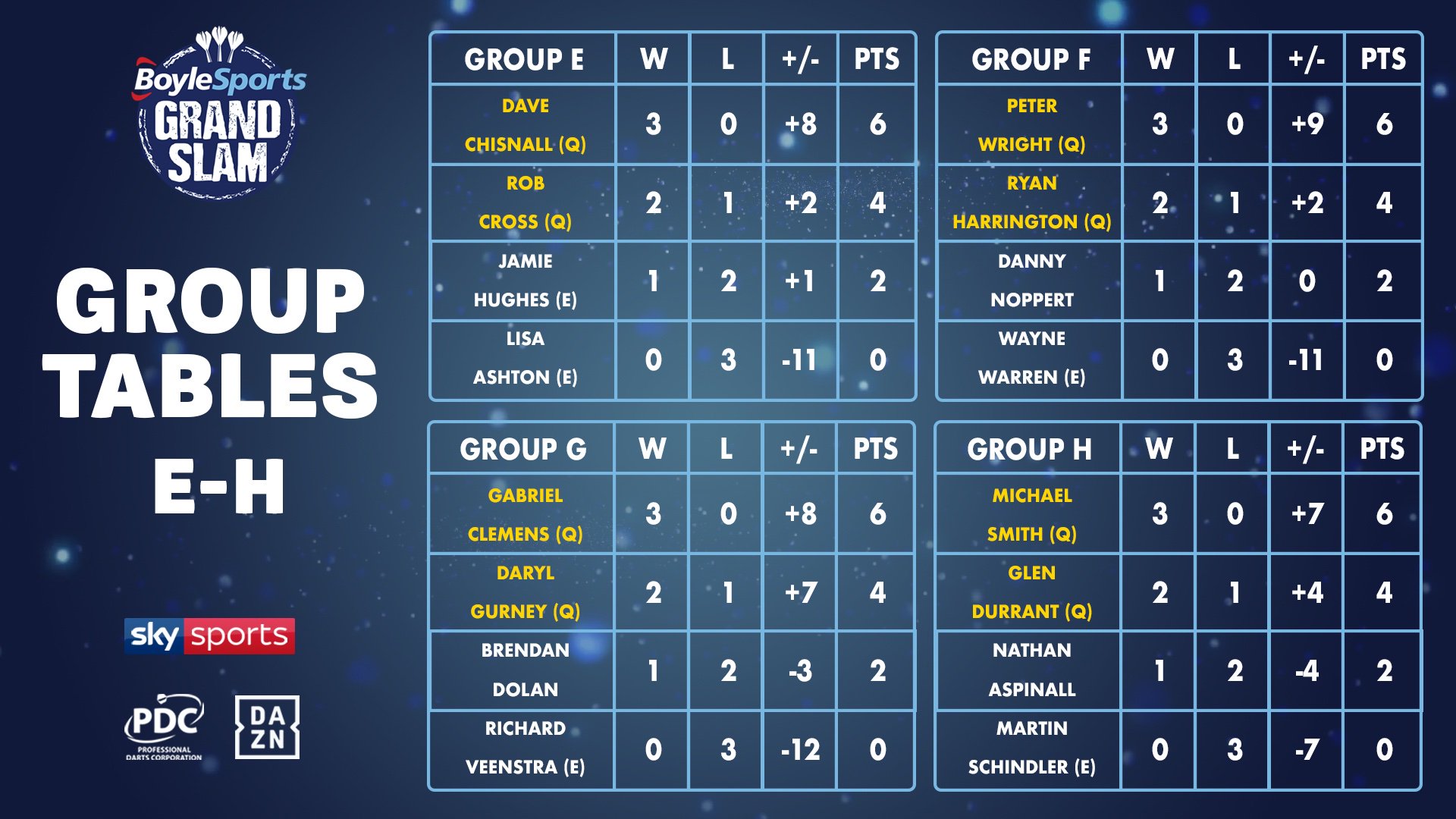 SECOND ROUND (19)
Dave Chisnall 10-3 Ryan Harrington
Gabriel Clemens 9-10 Glen Durrant
Michael Smith 10-7 Daryl Gurney
Peter Wright 10-3 Rob Cross
Michael van Gerwen 10-7 Ian White
James Wade 7-10 Adrian Lewis
Gerwyn Price 10-1 Darren Webster
Gary Anderson 10-8 Robert Thornton
QUARTER FINALS (31)
Dave Chisnall 12-16 Peter Wright
Glen Durrant 16-12 Michael Smith
Gary Anderson 9-16 Gerwyn Price
Michael Van Gerwen 16-6 Adrian Lewis
Prize Money:
Winner: £125,000
Runner Up £65,000
Semi Finalists £40,000
Quarter Finalists £20,000
Second Round Losers £10,000
Third in Group £7,500
Fourth in Group £4,000
Group Winners Bonus £3,500
TOTAL: £550,000